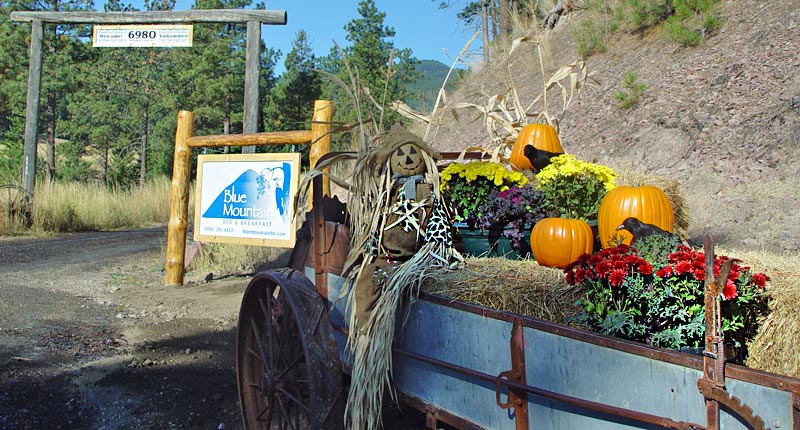 Blue Mountain Bed and Breakfast
Professional Memberships: Blue Mountain Bed and Breakfast, LLP is a member of The Missoula Chamber of Commerce and The Montana Bed and Breakfast Association.
Tours: Elaine is a certified tour guide: listed on the Montana Lewis and Clark Bicentennial Commission's web site. www.montanalewisandclark.org (Tours- Montana Trails and Tales)
Back Yard Habitat: Blue Mountain B&B is part of a twenty acre parcel of forest that has been officially certified as a backyard habitat area and tree farm.
Website Photos: all wildlife photos and many of the indoor/outdoor views were taken on-site by hosts, Brady and Elaine. We wish to thank photographer (and guest) Lori Macabe for the use of several of her indoor photos.  We would also like to thank professional photographers Marcus Berg (Unique Angles Photography), and Catherine Anderson, Elaine's sister, (Cat Anders Photography- South Carolina), for capturing the essence of the B&B with their talent and expertise.   
Area Accolades
Men's Journal quoted Missoula as being the "best small town under 100,000 people" (in America).
Sunset listed Missoula as the "best community in the West."
Forbes Magazine gave Missoula a rank of 11th on the list of 2003 "best small places for business and careers."
According to Rolling Stone Magazine, The University of Montana is the "most scenic campus in America."
The Princeton Review gave U of M the highest possible ranking for campus life, it also ranked U of M among the country's "best-value" universities.
U of M is ranked fifth in the nation among public universities producing Rhodes Scholars and its journalism graduates have won 8 Pulizer Prizes.
"A Mountain Town with a Surfing Problem: Missoula, Montana" (Outside Magazine)
"The 16 Greatest Places to Live in America: #9 Missoula, Montana" (Outside Magazine)
"The 3rd Best Place to Raise Outdoor Kids" (Outside Magazine)
"TOP 100 Best Places To Live: #8 Missoula, Montana" (Livability.com)
"20 Awesome U.S. Cities You Need to Visit in Your 20's: #9 Missoula, Montana" (Huffington Post)
"America's Best River Towns: #3 Missoula, Montana" (Fodor's Travel)
"Classic Trip: Kayak Missoula, Montana" (National Geographic Magazine)
"Top Cycling Cities in the U.S.: #8 Missoula, Montana" (Travel Channel)
"Top 10 Best Winter Vacation Spots: #7 Missoula, Montana" (Livability.com)
"Best Overall Marathon: Missoula Marathon" (Runner's World)
"7 Cold Runs and Polar Plunges: Snow Joke Half Marathon in Missoula, Montana" (Runner's World)
"Bitterroot River: The 17 Best Places to Fly Fish in Montana" (Men's Journal)
"North America's Top 10 Trout-Fishing Towns" (Forbes Magazine)
"Missoula, Montana: Best Fishing Spots" (Men's Journal)
"America's Best Small Cities on the Rise" (Smarter Travel.com)
"Missoula: A Perfect Mix of Town and Country" (Smithsonian Magazine)
"Top 10 College Towns: #7 Missoula, Montana" (Livability.com)
"20 College Towns We Love To Visit" (Fodor's Travel)
"Glacier National Park is one of the 10 Best Stargazing Sites in the U.S." (Fodor's Travel)
"Montana is the U.S. State with the Most Pride" (Destination Missoula/Gallup Poll)
"Montana Ranked 7th Best State for Locally Produced Foods" (NBC Montana)
"What a beautiful home and view, delicious meals and gracious hospitality." A. L., Tennessee