Bitterroot Room at The Blue Mountain Bed and Breakfast

Amenities:
This quaint room offers guests a queen-sized log bed with pillow-top mattress and down comforter.  It features picture windows, a private outdoor deck with bistro table, beautifully tiled two-person whirlpool tub/shower, heated tile flooring, air conditioning and TV for DVD's and music (access to small fridge in common area).  A large, eastern window overlooks the Bitterroot River, visually taking guests along the very route that Meriwether Lewis took on his return trip in 1806.  A private outdoor deck offers the same view among Ponderosa pines.
Decor:
The Bitterroot Room offers spectacular scenery and comfort, all within a cozy, log cabin-like atmosphere.  Its name honors Montana's state flower, which was of particular importance to Native people within this area.  Reflected through photos and art work, this theme takes a person back to Montana and the western region during the 19th and 20th centuries.  Inside, a person can look forward to snuggling down in the queen-sized log bed, or enjoying a whirlpool bath while reflecting on a time when tribes such as the Salish, Kootenai, Blackfeet and others, as well as mountain men and explorers, soaked in area hot springs. This particular room truly allows guests the opportunity of "going back in time," while still feeling spoiled with all the luxuries of the present day- a wonderful Montana escape!  Information about the area's tribal people, as well as beautifully haunting melodies of Native American flute (on CD) are available for guests to enjoy.
Breakfast:
Brady serves a wide variety of hardy, delicious gourmet breakfasts with a different flavor and twist every day.  We are happy to accommodate for individual dietary needs and offer gluten free, vegan, paleo and other preferences upon request.  Just let us know when you book your room or at least a day in advance!
Reservations:
You can visit our Reservation's Page for details regarding availability and rates.  Please feel free to give us a call or book on-line!  During our high-season months, we often have a two day minimum and are only able to fit people in if there is a gap, we appreciate you understanding.
View additional bed and breakfast rooms
Bitterroot Room | Ponderosa Room | Rose Room | Sagebrush Suite | Syringa Suite

---
History of the Bitterroot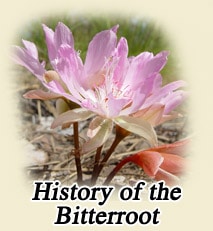 Blue Mountain is part of the larger Bitterroot Mountain Range, which to the east looks out over areas where the Bitterroot flower once flourished along the path of the Bitterroot River.  In the Salish language, "Spitlem Seukn" means water of the Bitterroot and it was in this homeland, among the sagebrush and pines, that various tribes harvested the roots of this delicate, pink flower for both food and medicine. The Salish tell of their tribal spirit helper, Old Man Coyote, who was entrusted by the creator to look out for the welfare of the people. It was Coyote who taught early people how to use the resources of the land, bringing them bison as well as knowledge of healing plants such as the Bitterroot. A Salish legend tells of a starving old woman who was visited by a spirit bird. The bird told the woman that a new plant would be formed from the red of his wings and the silver of her hair. This plant would give her people strength, although its taste would bare a bitter reminder of a people's tears born out of worry and hunger.
The Bitterroot became Montana's state flower in 1895 and is truly significant to the Missoula and Bitterroot valley areas. Normally, the plant blooms in late May or June, but Captain Lewis was able to collect it on July 1, 1806 due to a late blooming season. From Travelers' Rest, just four miles south of here, a specimen journeyed some 3,000 miles by horseback, boat and stagecoach before reaching the Academy of Natural Sciences in Philadelphia. After the plant was revived from a dried out root, botanist Frederick Pursh, gave it the scientific name of Lewisia rediviva, which honored Meriwether Lewis and the plant itself for its remarkable regeneration capabilities.
It is no wonder that such a plant is able to carry over its nutrient value and was prized by area people. The Flathead, Kalispell, Pend d'Oreille, Spokane and Nez Perce gathered in Missoula valley to dig the Bitterroot. The plant was sought early in the spring before the roots became woody and bitter.
The life-sustaining properties of The Bitterroot were recognized by many people in the area. Early mountain men and pioneers sometimes traded the Indians for the Bitterroot; a little over a pound (3-4 days worth of work) was enough to sustain a person through the winter and was comparable in trade to the worth of a horse! The importance of root gathering in this area was so great that it often caused tribal conflict. The Blackfeet were well known for their raiding parties, in fact Missoula's Hellgate Canyon earned its name from trappers who knew of the area's reputation as an "open graveyard" that was once littered with the bones of war fare.
The Missoula area offers a window into the valuable stories of our past. Careful observers will come to understand that in many ways, this place of the Bitterroot still belongs to the echo of Salish horses and the footsteps of Lewis and Clark, to the cry of the hawk, and the evening song of the coyote.