Honoring Our Youth Pow Wow:
Spring shows its face in many ways.  In Montana, our powwows welcome us to new seasonal changes.  It is fitting that just two days before Missoula's youth powwow event, a heavy rain storm accompanied by lightning ushered in a new cycle.  Storytelling time is now over, allowing for other activities to blossom and grow.
There are several powwow celebrations to look forward to during the spring and summer in the Missoula area alone.  The first event of the season occurs this Friday, sponsored by the Missoula County Public School System.  Details regarding the event are listed below.
Missoula County Public Schools Honoring Our Youth Pow Wow:  Friday's grand entry is at 7:00 p.m.!
Times: Friday, March 8 from 7:00 p.m. to midnight and Saturday, March 9 from 1:00 p.m. to midnight.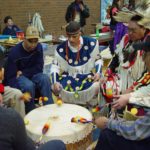 MCPS students will lead the grand opening events by carrying school banners.  The powwow is free to the public and will include dancers from the western region of the U.S. and Canada.  A cultural feast is planned from 5-7 p.m on Saturday, while the rest of the event is dedicated to dancing.  The amount of time, effort and talent it takes to make the regalia worn by the dancers is amazing.  Read more about this year's fascinating event and the preparation that has gone into each step by reading the Missoulian article entitled Powwow Prep by Betsy Cohen.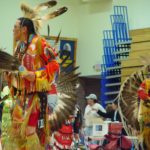 In addition to Missoula's spring celebrations, there are other powows throughout Montana to look forward to.  Just north of us, on the way to Glacier Park,  lies the Flathead Indian Reservation.  The towns of Arlee, Pablo and Ronan all host celebrations during the spring and summer seasons.  You will find links below to these various upcoming powwow events!
If you would like to know more about certain Native American cultural opportunities, don't hesitate to contact us here at Blue Mountain Bed and Breakfast.  We are always happy to give people tips related to travel and tourism!  Missoula is a wonderful destination spot between Yellowstone and Glacier National Parks.  There are so many unique opportunities in Missoula and the surrounding areas to enjoy history, hiking, art, culture, great food and so much more!
COLORS SWIRLING
MY HEART a DRUM
CELEBRATING
FAMILY and LIFE
CELEBRATING
HISTORY and CULTURE
BEAUTY and
HOPE
@Elaine Anderson-Wood
Links to other upcoming 2013 powwow events in Montana:
Kyi-Yo Celebration
Kyi-Yo's annual powwow celebration at the University of Montana.
Annual 4th of July powwow in Arlee, Montana
Links to Past Events:
Kyi-Yo blog from Blue Mountain Bed and Breakfast (April, 2012)
Kyi-Yo blog from Blue Mountain Bed and Breakfast (March, 2011)
Arlee powwow (July 2012 YouTube)
Arlee powwow (July 2010 YouTube)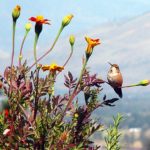 Powwow-related books recommended for children:
During my teaching career at MCPS, I particularly enjoyed sharing
The Good Luck Cat and Jingle Dancer with my 2nd-4th grade students!

Celebrating the Powwow by Bobbie Kalman (1997).
A Circle of Friends by Terri Mack.  Illustrated by Bill Helin (2012)
The Good Luck Cat by Joy Harjo.  Illustrated by Paul Lee.  Harcourt (2000).
Jingle Dancer by Cynthia Smith.  Illustraded by Cornelius Wright.  Harper Collins (2000).
Powwow by George Ancona.  Harcourt Brace Jovanovich (1993).
Powwow's Coming by Linda Boyden (2007).