My name is Kristi Dement and I help Brady and Elaine with blogging for their bed and breakfast. You can check out my website at Bed and Breakfast Blogging.  It is not hard to see why these two live where they live.
The views are absolutely breathtaking and the nature and wildlife in the area are enchanting.  Elaine takes gorgeous professional pictures and is a certified tour guide while Brady receives great guest comments about his delicious breakfasts and tremendous knowledge of the local area.
Brady and Elaine are the real deal.  They truly love hosting people at Blue Mountain Bed and Breakfast. The following is just a sample of the glowing comments guests have given them on the website Trip Advisor:


"I slept like a baby in your very comfy room." (visitor from Los Angeles, CA)
"This is like staying at a good friend's mountain home." (guest from Lexington, KY)
"We had our own deck with a wonderful view." (Robin R. from Scotsdale, AR)
"…outstanding breakfasts (not a single repeat and all were exceptionally good)." (guest from Hot Springs, AK)
"You can hike morning or evening and you are almost sure to see deer." (Top Contributor, Monpetit, from Vannes)
"Brady was a wonderful host and full of valuable information about things to do and see in the area. He was born and raised here!" (Karen C. from Livonia, MI)
"Brady and Elaine have made an art of hospitality!" (Madoc from Lubbock)
"All I can say is you absolutely have to try this B&B to believe how wonderful it really is." (visitor Stacey Clark)
"The owners have gone to a great deal of trouble to think of everything you might need to make your stay tranquil and pleasing." (guest from Cambridgeshire)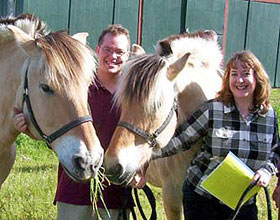 It is an honor for me, Kristi Dement, to help these two with their blogging and social media.  They make inn-keeping seem easy, but I am sure it is a lot of hard work.  For them I know it is a labor of love.
Brady and Elaine's gift for hosting people from all over the world shows and guests want to return for repeat visits to see them and enjoy the peaceful and scenic area of Missoula, Montana.  I highly recommend staying at Blue Mountain Bed and Breakfast and so do many other guests!