The beautiful yet rugged city of Missoula is a serene and welcoming community, well known for its abundant natural beauty.  Located in the Northern Rockies, Missoula borders a National Forest and has plenty of outdoor recreational areas where visitors can enjoy a wide variety of wonderful activities throughout the year.  Whether you're an avid bird enthusiast or are just looking for a relaxing way to enjoy nature, it's hard to beat a day spent birding in Missoula.  Our stunning Bed and Breakfast Inn, nestled on the mountainside among majestic ponderosa pines, is the perfect destination for a relaxing getaway this fall.  Book your room with us today.
Birding Locations
Birding, often referred to as a silent sport, is one of the fastest growing recreations in the country, and Montana ranks #1 in terms of overall birding participation across the state.  While there are probably more places for birding in Missoula than birds to watch, some of the more popular places to visit in search of those exciting flashes of color in the trees are Kelly Island, Rattlesnake National Recreation Area, Lee Metcalf Wildlife Refuge, Greenough Park, Maclay Flat/Blue Mountain, Mount Sentinel and the Kim Williams Trail, Pattee Canyon and along the Clark Fork River.  In all of these places and more, you'll find an incredible range of diversity in bird species, including popular favorites the Woodpeckers, Blue Herons, flycatchers, Bald Eagles, and Osprey.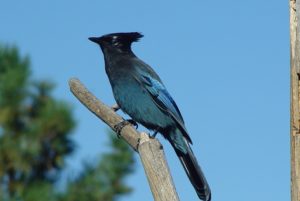 The Montana Birding and Nature Trail is an amazing resource for local birding opportunities.  Among these trails and parks, you can see an incredible diversity of bird species and natural habitats.  Hike among the fire-dependent forests of Blue Mountain, and you'll hear the tell-tale sounds of Woodpeckers, especially the Black-backed and Three-toed woodpeckers, foraging on bark and wood-boring beetles in the fire-killed trees. Walk through the the cottonwoods of Kelly Island, and you're likely to see the majestic Great Blue Heron or the Lewis Woodpeckers that thrive in the dead Cottonwoods.  If you're a hawk enthusiast, we recommend birding along the Kim Williams Trail or in Council Grove State Park, where you'll see majestic birds such as the Red-tailed Hawks, Cooper's Hawks, American Kestrel, Osprey, and Bald Eagles.  For a unique birding experience in Missoula, try a float trip down the Clark River, where you'll not only enjoy the spectacular scenery but a wide variety of birds as well, including Sandpipers, Killdeer, merganser, flycatchers, warblers, swallows, great blue herons, and more.  We've barely begun to scratch the surface of birding opportunities in this blog, but we hope it's enough to entice you into the hills of Missoula.  Begin your birding adventure and experience Missoula's natural world at its best by booking your room at our Missoula Bed and Breakfast today.