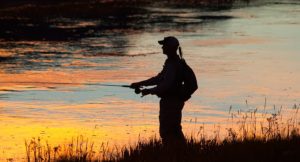 The trout season has begun and avid anglers are returning to their favorite fishing spots. Locals considered fishing an art performed in the beautiful setting of Montana's lakes and rivers. And Norman Maclean's novel A River Runs Through It, illustrates the grace of fly fishing on an idyllic Missoula river. Experienced anglers will enjoy the endless selection of scenic fishing locations. While beginners can join guided tours that include all the gear and instruction needed. It's no surprise that Forbes Magazine named Missoula one of North America's top ten fishing towns. For the perfect Missoula fishing vacation, stay at the Blue Mountain Bed and Breakfast. Our mountainside location treats guests to breathtaking valley views and elegant suites. Enjoy the privacy of a quiet retreat while close to downtown Missoula and great fishing. Book your trout fishing vacation in gorgeous Missoula today.
Trout Fishing in Beautiful Missoula Rivers and Lakes
In Missoula anglers have a wide choice of sparkling rivers and serene lakes. These miles of fishable waters are along flowering meadows and flanked by majestic mountains. Not only is the fishing exceptional, the scenery is awe-inspiring.
There are plenty of options for great river fishing. Missoula has almost unlimited \stretches of pristine river banks filled with a variety of trout. The trout found in these waters include brook, brown, bull, rainbow, and cutthroat. The Blackfoot is one of twelve renowned "Blue Ribbon" rivers in Montana and the home river of author Norman Maclean. The Bitterroot and Blackfoot merge at the Clark Fork River and all have high mountain range views. Also find top notch fishing at Rock Creek and the Missouri River.
Missoula's tranquil lakes also offer wonderful trout fishing. Flathead Lake, the largest natural freshwater lake west of the Mississippi, has brook, lake and rainbow trout. While, Georgetown Lake has trophy sized trout including; rainbow, brook and cutthroat. The calm waters of Placid Lake State Park also offers great fishing. Additionally, Kokanee and Mountain Whitefish are found at Seeley and Salmon Lakes.
Trout Fishing Outfitters and Guided Tours
Missoula's obsession with trout fishing makes it easy to find gear, lessons and guided tours. Many outfitters offer day long tours to beautiful locations. Experts will teach beginners the basics and help veteran anglers improve their skills. Pick the perfect trip for a unforgettable day of fishing:
Summer is a great time to visit Missoula and enjoy all the wonderful outdoor activities. Trout fishing is a fun, relaxing, and rewarding way to spend a day surrounded by Montana's grand mountains, green valleys and shining rivers. Reserve your luxury guest room at Blue Mountain Bed and Breakfast today and start packing your fishing gear.