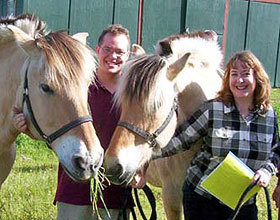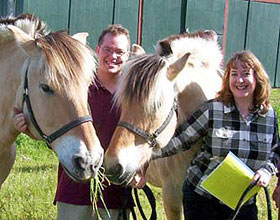 Brady and Elaine Anderson-Wood are native Montanans who have an avid interest in helping to preserve and pass on local history and wildlife opportunities to others. The gardens as well as log and cedar structures on the property were designed and built primarily through the joint effort of family members who worked together to create a mountain dream, come true.
The antiques and decor of the Inn reflect generational ties to western ranching and history as well as personal travel experiences throughout parts of Europe and Asia. Family stories related to the settling of the West, including a great, grand uncle who was one of the first tour guides in Yellowstone Park, are shared through historical displays and albums at The Bed and Breakfast. Many of the exhibits, including an international mask collection and a Western art display, give one a genuine feeling of being in a small museum or art gallery.
Brady and Elaine have passions that include gardening, woodworking, cooking and music, meeting new people and enjoying the little critters that reside in their home and on the mountain. When they are not busy with the Bed and Breakfast, they spend their hours hiking and photographing the surrounding landscape and taking part in community activities. Brady is a full time host at the b&b, while Elaine maintains a part-time teacher career during the school year.
Elaine and Brady are proud of the fact that their dream of establishing Blue Mountain B&B in turn helps other local projects maintain important dreams for the community. When you stay at The Inn, you further their ability to contribute to a variety of worthy organizations including, The University of Montana Alumni Band Association, Travelers' Rest State Park, The Audubon Society, P.E.O. (educational scholarships for women), Missoula Butterfly House, Tamarack Grief Resource Center (an organization helping Children and their families whom have lost someone close.)  Five Valley Land Trust, The Flagship Program (an after school & summer activities program for disadvantaged youth.)
"You are both such accommodating hosts and there is so much to see and do at The Inn." C.L., Montana