Ponderosa Room at the Blue Mountain Bed and Breakfast

Amenities:
The Ponderosa Room (located in the main house) is both welcoming and relaxing, offering a Western feel that is similar to the rooms over in the Lodge space.  If Western decor fits your taste a bit more than Victorian (The Rose), or Japanese (The Syringa), then reserving the Ponderosa is a perfect alternative.  The room offers a locally crafted, King-sized log bed with a pillow-top mattress, and down comforter.  The bath is done in granite and tile and includes a one-person jetted tub/shower combination.  From either the recliner or bed, a person can read, enjoy the view, or snuggle in and watch movies on the flat screen TV with DVD player.  This room comes with a  small fridge, an air conditioning unit and an electric fireplace so that every season can be enjoyed to the fullest!  Sliding glass doors open onto a private deck where one can sit and enjoy the amazing Missoula valley view, Bitterroot Root River and towering ponderosa pines.
Decor and History:  
The Ponderosa Room's decor truly takes a person "into the woods." The trim work is done with blued ponderosa pine, milled from several trees right here on the mountain. Tools of the trade from days gone by are artistically mounted on several walls, telling a story of Swedish-American heritage that was linked to forestry and farming.  Many of the displayed tools belonged to Elaine's great grandfather, Axel Emil Anderson, who worked as a log scaler in a sawmill before emigrating to America from Sweden.  There are also many tools and family artifacts on display in the library, just next door. These belonged to Axel's brother, Ole Anderson, who not only was a carpenter by trade, but was one of the very first guides, photographers and entrepreneurs in Yellowstone Park.  A hand-made "pioneer"quilt hangs over the bed of the Ponderosa Room, a reminder of the hard-earned accomplishments made by those who came west in the early days. The quilt is a treasured wedding gift, made by Elaine's P.E.O. sister, Sally Wright, in 2002.
Breakfast:
The Ponderosa Room is definitely a bear's dream come true, and several "have taken up residency" on the plush bed.  What's not to like about this cozy room that looks out over majestic pine trees and includes a bear-worthy breakfast each day?  An assortment of maple and berry syrups and valley-grown honey are sure to put a smile on any bear when accompanied by Blueberry-huckleberry sourdoughs, home-made biscuits, macadamia nut French toast or other delights. Brady serves a wide variety of hardy and delicious gourmet breakfasts with a different flavor and twist every day.  We are happy to accommodate for individual dietary needs and offer gluten free, vegan, paleo and other preferences upon request.  Just let us know when you book your room or at least a day in advance!
Reservations:
You can visit our Reservation's Page for details regarding availability and rates.  Please feel free to give us a call or book on-line!  During our high-season months, we often have a two day minimum and are only able to fit people in if there is a gap; we appreciate you understanding.
Animal's Rule:
Our pet-friendly rooms (in the main house) are kept to the same high standards as our others.  We simply keep the entire Lodge pet-free for guests with allergies.  Well mannered dogs, some cats and other "fuzzy" fellows are welcome in the Ponderosa and Rose (please inquire).  There is a $15 per day "fuzz" fee, and we ask that you take your dog with you if you will be gone for the day.  You will want to bring a leash along so you can enjoy the beautiful trails behind the bed and breakfast! 
View additional bed and breakfast rooms
Bitterroot Room | Rose Room | Sagebrush Suite | Syringa Suite

Rates & Amenities
$134 to $165 in Peak season
This room features:
King Sized Log Bed and Handmade Quilt
Refrigerator
Private Deck
Whirlpool Tub
Electric Fireplace and Air Conditioning
TV with DVD player (no TV reception)
Pet-friendly room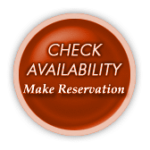 ---
History of the Ponderosa Pine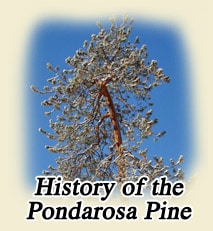 The ponderosa pine is Montana's state tree and an important natural resource for the state.
Not only is the ponderosa important to the lumber industry, but it offers nutritional value to wildlife in many forms. Deer eat the needles, squirrels and many bird species, including quail eat the seeds. The crossbill has a bill that is specially adapted for reaching into the tree's cones and the Clark's Nutcracker has adapted an entire life style around the pine tree. It even has a special pouch under its tongue that allows the bird to carry seeds for long distances. The Clark's Nutcracker is capable of hiding thousands of seeds in various caches and has an amazing memory for locating them later on. This adaptation allows the Nutcracker to breed in January or February because the young can feed off of winter stores. The Clark's Nutcracker actually feeds off of a variety of different pine trees, but at our elevation here on Blue Mountain, the availability of seeds comes almost exclusively from the ponderosa pine.
As a food source, another important part of the ponderosa is its inner bark which is eaten by porcupines and was also a staple for several Indian tribes at one time. The sweet, inner bark offered nourishment after a long winter and was usually peeled on cloudy, cool days when the sap ran well. The women were the ones to remove the bark of the ponderosa. For removal of the outer bark, a chisel-type implement, often made of juniper, was used. A different tool was used to separate the sweet, edible, inner bark from the outside layer. It is known that in prehistoric times, the Kootenai used a special scraper made from mountain sheep horn. By the 1890's the Kootenai began creating more efficient spade-like scrapers out of K.C. Baking Powder cans.
Peeled-cambium tree scars can still be seen in the Bitterroot Valley and surrounding mountains and are actually protected under the National Historic Preservation Act (Bitterroot National Forest). "Culturally scarred" or peeled trees are distinguishable from trees scarred by forest fire in several ways. Peeled scars are usually found on large, centuries old ponderosa. A scar usually starts about 3 feet from the base of the tree and is usually large- sometimes up to 8 feet long and 2 feet wide. Indian Trees Campground, near Lost Trail Pass, offers people a chance to walk among some of these ancient scarred trees. The interpretive signs at the site are very well done.
The Journals of Lewis and Clark have several references to peeled trees… "…saw where the natives had pealed the bark off the pine trees… to obtain the sap and soft part of the wood and bark for food." July 19, 1805 (Missouri River- near present day Helena)
"I made camp at 8 on this road  & particularly on this Creek the Indians have pealed a number of Pine for the under bark which they eat at certain Season of the year." September 12, 1805 (Lolo Creek- just a few miles from our bed and breakfast)
Besides using the ponderosa's inner bark, other parts of the tree were important to many tribes as well. For example, the pitch was chewed as gum by the Cheyenne and also used to basically plaster their hair in place. The Salish mixed pine pitch with melted tallow and applied it as a poultice. The Nez Perce used pitch to keep torches lit and as a glue and waterproofing agent. It was also the Nez Perce who showed Lewis and Clark how to make dugout canoes from ponderosa logs. Several American Indian groups ground the pine seeds into a meal for making bread and used the tree's buds to make a medicinal tea for internal bleeding, fevers, and other ailments.
It is interesting to note that when the Lewis and Clark expedition came through this area, William Clark stated that the (ponderosa) "forms the principle timber of the neighborhood." Notice Clark's spelling of the word neighborhood and the fact that expedition members referred to this type of pine tree as "the long-leafed pine." The tree actually goes by nine different nicknames that we know of, but was given its scientific name, Pinus Ponderosa, by Scottish botanist David Douglas (near Spokane, Washington).
There is still a large ponderosa at Travelers' Rest State Park which is old enough to have "witnessed" the expedition's encampment there on Lolo Creek some 200 years ago. Some of the oldest ponderosa pines have in fact lived up to 700 years and have grown over 200 feet tall, a ponderous species indeed! A variety of factors allow the ponderosa to be long-lived. Adult trees are very fire resistant, at least to fairly low-intensity fires. The fact that the lower trunk area is usually devoid of branches and the cambium layer is insulated by thick bark give it special resistance. In addition, a long taproot allows the ponderosa to access moisture on dry hillsides, also making the tree less prone to wind fall.
The bark of older ponderosa pines often looks quite different than the bark of much younger trees. It is this fact that has helped the tree earn so many different names. Loggers have used the name "blackjack" for younger trees, which usually exhibit a dark gray bark. The yellow or reddish-orange bark of a tree that is 125 to 150 years old is composed of many thin jigsaw-puzzle pieces. Nicknamed "yellowbellies" or "pumpkins," on hot days the bark of these mature trees has a smell much like that of vanilla.
Even the inner wood of a dead ponderosa often turns a different color. When left standing, bluish patterns become apparent within the wood, something greatly prized by craftsmen. Look closely when you stay in the Ponderosa Room. The blued pine used in this room was harvested just behind the hill from trees affected by the presence of bark beetles.
There is nothing more magnificent than a ponderosa pine which has stood, possibly for centuries, in the same place over time. A beautifully gnarled old ponderosa such as this stands sentinel over the bed and breakfast and water fall. Its grandeur, reflected in the pond below, gives the illusion that the mountain it stands on, the sky it touches and time itself must go on forever- while somehow standing perfectly still. It is the gift of a life time to witness, even for a moment, such perfection and eternal balance.
Resources:
– Cornell Lab of Ornithology.
– Lone Pine Field Guide to Plants of the Rocky Mountains: Linda Kershaw, Andy MakKinnon, Jim Pojar. Canada: Lone Pine Publishing, 1998.
– Montana Native Plants and Early Peoples: Jeff Hart. Helena: Montana Historical Society Press, 1996.
– Peterson Field Guide of Western Medicinal Plants and Herbs: Steven Foster, Christopher Hobbs. New York: Houghton Miffli Company, 2002.
– Scarred Trees In Western Montana: Thain White. Bozeman: Montana State University Papers, No. 17 1954.
– Trees Of the Lolo National Forest: Forest Service Brochure.