Rose Room at the Blue Mountain Bed and Breakfast
Amenities:
The Rose is an elegant room with hard wood flooring, a queen-sized sleigh bed, pillow-top mattress and down comforter.  The private bath includes granite tile, a shower and one-person jetted tub.  The sitting area has Victorian era furnishings and a view of the hillside through sliding glass doors.  A television for DVD and music use is provided.  The outdoor deck offers guests a forest view and bistro table.
Decor:
The Rose Room overlooks the entryway garden, which from spring to fall is in bloom with lovely shrub and wild roses, iris, honeysuckle and other flowers.  In winter, the snow powders the pines in a shimmering white, a view that any warm summer's day would envy.  The deck is adjoined by the hillside and is particularly beautiful in spring when the fragrant, wild lilacs (Syringa) bloom and the forest flowers blanket the ground.  On a summer's day, guests can enjoy a glass of lemonade and a good book in the air conditioned room, or outside on the deck.  In winter, a cup of tea or hot chocolate is in order, either on the deck or from the comfort of one's room.  If that doesn't warm the body and soul, then a luxurious bath in the relaxing jetted tub certainly will.
The lovely, Victorian feel of the room is complemented by rich area rugs and a cherry sleigh bed.  The antiques, books, and decor include family heirlooms as well as European travel memories, allowing guests an opportunity to traveling back in time among beauty, poetry, comfort, and turn of the century elegance.
Breakfast:
Brady serves a wide variety of hardy, delicious gourmet breakfasts with a different flavor and twist every day.  We are happy to accommodate for individual dietary needs and offer gluten free, vegan, paleo and other preferences upon request.  Just let us know when you book your room or at least a day in advance!
Reservations:
You can visit our Reservation's Page for details regarding availability and rates.  Please feel free to give us a call or book on-line!  During our high-season months, we often have a two day minimum and are only able to fit people in if there is a gap; we appreciate your understanding.
Animal's Rule:
Our pet-friendly rooms (in the main house) are kept to the same high standards as our others.  We simply keep the entire Lodge pet-free for guests with allergies.  Well mannered dogs, some cats and other "fuzzy" fellows are welcome in the Rose and Ponderosa (please inquire).  There is a $15 per day "fuzz" fee, and we ask that you take your dog with you if you will be gone for the day.  You will want to bring a leash along so you can enjoy the beautiful trails behind the bed and breakfast! 
View additional bed and breakfast rooms
Bitterroot Room | Ponderosa Room | Sagebrush Suite | Syringa Suite

 Amenities
This room features:
Queen Size Sleigh Bed
Private Deck with forest view
Whirlpool Tub (one person)
Air Conditioning
TV with DVD player (no TV reception)
Pet Friendly Room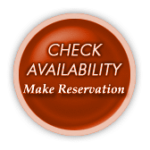 ---
History of the Rose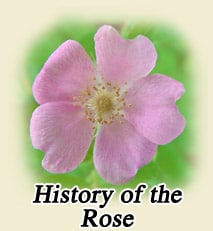 The wild rose, of which there are several species in Montana, was considered as one of the choices for our state flower and is the national emblem of neighboring Canada. Like the Bitterroot flower, the wild rose was noted by The Lewis and Clark expedition at Travelers' Rest, just a few miles south of here.
In general, the rose has been used both in America and Europe for its many health and beauty benefits. Among Native people, the wild rose was used primarily for medicinal and spiritual reasons rather than as a food source. The Nez Perce, for example, hung rose sprigs on a baby's cradleboard in order to drive away ghosts. The flower was also woven into legends of Coyote, the spiritual helper of a number of tribes within the region.
From spring through summer, the gardens and hillsides of Blue Mountain Bed and Breakfast are in bloom with wild or domestic roses of one variety or another. Two of the most beautiful wild shrubs on Blue Mountain's hillsides are the chokecherry and serviceberry. As part of the rose family, they welcome the spring with a bounty of white blossoms and are followed in pink by the wild rose.
Whether wild or domestic, the rose has been a symbol of love and royalty throughout the course of Western history, and within its symbolic beauty, it will surely bloom for gardener, poet, and lover for years to come.