Sagebrush Suite at the Blue Mountain Bed and Breakfast
Amenities:
The Sagebrush Suite (located in the Lodge) offers guests a spacious, Western welcome.  A hand-crafted King log bed, pillow-top mattress, and down comforter add to the warm feel of the room. The private bath includes a lovely two-person jetted tub/shower combination and heated tile flooring.  During the warmer months, an air conditioning unit is installed.  The room's cozy sitting area includes leather recliners and a TV for DVD and music use.  Binoculars, guide books, and historical information related to the West are provided for the purpose of enhancing your visit to our Missoula Bed and Breakfast.
Decor:
The suite looks out over the beautiful Missoula Valley, allowing for expansive views of the city, river and of one the first ranches in the area.  The room's log interior is reminiscent of an earlier era, tying the Inn to a past history of family homesteads and ranching.  Although this room does not include a private deck, guests are welcome to enjoy one of the six outdoor areas, each with tables.  One of the nicest things about Blue Mountain is the fact that There is plenty of space and privacy to go around!  After that long day on the trail, you can look forward to a soak in your private jetted tub, something that would make a cowboy with his old-time wash basin more than envious. And when it is finally time to "hit the sack," you can lie in the comfort of your log bed, watching the stars and listening to an old cowboy version of "Silver On The Sage."  When dawn comes, you will find yourself still nestled beneath the cozy down comforter, anticipating a fresh cup of coffee and the events of the day.
Breakfast:
A hardy and delicious breakfast, fit for a ranch hand, might include sourdough or buckwheat pancakes, biscuits and gravy, home made preserves, or other delicacies.  We are happy to accommodate for individual dietary needs and offer gluten free, vegan, paleo and other preferences upon request.  Just let us know when you book your room or sometime in advance!
Reservations:
You can visit our Reservation's Page for details regarding availability and rates.  Please feel free to give us a call or book on-line!  During our high-season months, we often have a two day minimum and are only able to fit people in if there is a gap, we appreciate you understanding.
View additional bed and breakfast rooms
Bitterroot Room | Ponderosa Room | Rose Room | Syringa Suite

Rates & Amenities
This room features:
King Size Log Bed
Outdoor sitting area (near room but not attached
Whirlpool Tub
Heated Floor
Air Conditioning
TV with DVD player (no TV reception)
Pet-Free Room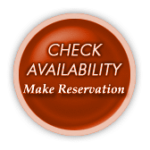 ---
History of the Sagebrush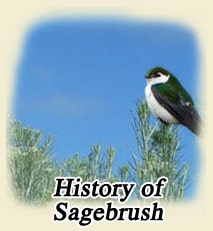 Sagebrush, which is part of the sunflower family, has long been associated with cowboy territory and like the tumble weed, has become a symbol of the West. There are in fact several different species of sagebrush and nearly all have held significant religious and medicinal value for Indian tribes within the Western region. The Kootenai tell of their cultural hero, Coyote, having smoked a type of sage as tobacco. Many tribes continue to use it in traditional purification rituals.
There are a number of sagebrush varieties native to Montana but only rabbit brush, a distant relative of true sagebrush, grows on Blue Mountain's hillsides. In the Bitterroot Valley however, early settlers commented on this tall, dense plant which continues to thrive on some of the more arid hillsides and offers wildlife such as deer, elk and grouse an important winter food source.