Syringa Suite at The Blue Mountain Bed and Breakfast
Amenities:
The Syringa is our bridal "suite" and largest room.  It has a vaulted ceiling, over-sized picture windows and a sitting area overlooking the Japanese lily pond and waterfall.  The king-sized bed with mahogany finish, pillow-top mattress and down comforter have a lovely Asian feel.  The private bath offers guests the luxury of a two-person jetted tub, with Roman shower and rich marble flooring.  There are two sink areas, a closet and fridge as well.  Air conditioning in the summer and an electric fire place in winter give this room appeal during every season.  There is a TV with DVD and music capability and a private outdoor deck (with a bistro table) that looks out over the forest.
Decor:
Within the room, rich green carpet and beautiful stepping stones create a "garden pathway" that leads the eye outside and complements the room's Asian decor.  While you soak in your private tub, you will find yourself transformed to a Japanese mountain inn, as the open window bathes you in the sweet smell of pines and the sound of the waterfall beyond; tranquility for the mind, body and soul.  To the north, large picture windows overlook a breathtaking Japanese water garden where koi swim among the water lilies and a spectacular water fall tumbles to the garden below.  On the west, sliding glass doors open onto a deck that is nestled among wild flowers and ponderosa pines.  A more traditional, American sitting area is all that gives away the true secret of this room as a Montana Bed and Breakfast.
Breakfast:
Brady serves a wide variety of hardy and delicious gourmet breakfasts with a different flavor and twist every day.  We are happy to accommodate for individual dietary needs and offer gluten free, vegan, paleo and other preferences upon request.  Just let us know when you book your room or at least a day in advance!
Reservations:
You can visit our Reservation's Page for details regarding availability and rates.  Please feel free to give us a call or book on-line!  During our high-season months, we often have a two day minimum and are only able to fit people in if there is a gap.  We appreciate you understanding.
View additional bed and breakfast rooms
Bitterroot Room | Ponderosa Room | Rose Room | Sagebrush Suite

Rates & Amenities
$144 to $172 in Peak season
This room features:
King Size Bed
Refrigerator
Private Deck
Whirlpool Tub
Roman Shower
Air Conditioning
TV for DVD player and music (no TV reception)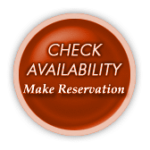 ---
History of the Syringa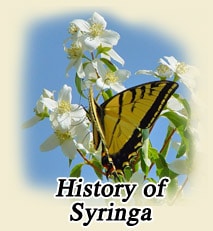 The sweet smelling Syringa, which is Idaho's state flower, is part of the Hydrangea family. Its species name, Lewisii, honors Captain Meriwether Lewis, who collected it in this area along the Bitterroot River in 1806. The Syringa is also known as Mock-Orange, Bridal Wreath and Indian Arrowwood. Its straight stems were used by Native People in making arrows, while the leaves, roots and branches were used for medicinal purposes.
In late June, the lovely "orange blossom" fragrance of the Syringa fills the mountain air as swallowtail butterflies sip its nectar. It is fitting that the Syringa Suite looks out over the Japanese water garden, where varieties of Japanese hydrangeas bloom throughout the summer. In late June, these splendid garden varieties are paired with our native beauty which covers the hillsides in white, like a fragrant blanket of soft winter snow.