Missoula Farmers Markets boast much more than absolutely delicious and fresh local food.  Not only that, there are four local markets to choose from!


The Clark Fork Market is located under the Higgins Bridge, in the Riverside Parking Lot, just east of Caras Park in Downtown Missoula. Their hours are Saturdays, 8am until 1pm from the first Saturday in May through the fourth Saturday in October —  rain or shine! There is ample FREE parking adjacent to the market at the parking structure on the corner of Front St. and Pattee St. and on the upper and lower levels of the Bank Street Parking Structure (the Millennium Building).
baked goods
dairy products
fish
fruits
jams and jellies
live music adds to the festivities from 10:30am- 12:45pm
locally produced meat
poultry
salsa
vendors serving food

The Missoula Farmers Market is known as "the original farmers market" since patrons have been supporting local farmers and vendors since 1972.  The were a finalist in the 2015 Best of Missoula Contest for three categories: "Best Place to Take Out-of-Towners," "Best Place For People Watching," and "Best Fresh Produce."
Market opens with fresh local produce, flowers, baked goods and coffee provided by over 100 local vendors.  Located in Circle Square at the north end of Higgins Avenue in Downtown Missoula.  They are open 8:30 am to 12:30 pm on Saturdays from mid-May to mid-October as well as 5:30 pm to 7:00 pm on Tuesdays from July through early September.
Savor eating foods at the peak of their flavor, ripeness and nutrition
Enjoy buying plants that are raised by the people who sell them
Feel good about supporting our local economy and Montana's local producers

The Missoula Saturday Market is known as "the people's market."  Dozens of craftspeople showcase their photography, jewelry, clothing, soap, glass art,and various other hand-made items.
They are open from 9 am to 1 pm from the second Saturday in May through the last Saturday of September.  They are located on East Pine Street in Downtown Missoula.


The Orchard Homes Farmers Market is a small farmers' market who provides vegetables, fruits, baked goods, farm-fresh eggs, jewelry, jams & jellies, and a variety of other crafts.
Almost all of the vendors are from the Orchard Home area which means the produce was all grown within 1 mile of the market! Now, that's fresh! They love their customers and love getting to known them personally throughout the season….making the "know your farmer" motto real life for all our customers!
They are located in the parking lot of the Orchard Homes Country Life Club (at 2537 S. 3rd Street West) which is just about 100 yards southwest of Wheat Montana Deli. They are open from 4:30 pm to 7 pm every Thursday from mid-June until October.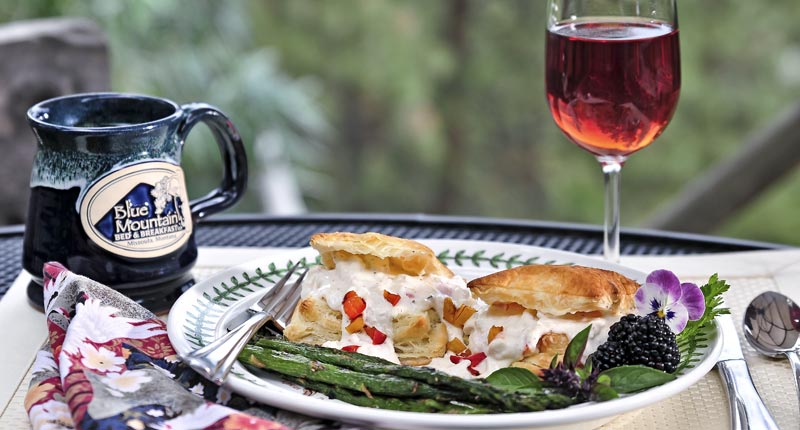 Blue Mountain Bed and Breakfast delights in serving delicious, fresh local food to our bed and breakfast guests.  Located in Missoula, Montana, we enjoy living in Big Sky Country and you will love visiting our scenic mountain getaway and looking around our local farmers markets!