Newsboys – We Believe…God's Not Dead Tour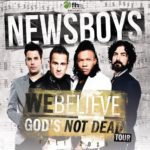 Event Date: Friday, October 9, 2015 at 7:00 pm
Facility: Adams Center on University of Montana Campus in Missoula
Grammy Award-winning Christian music group, the Newsboys, will bring their "We Believe…God's Not Dead" tour to the Adams Center at The University of Montana in Missoula for a concert at 7 p.m. Friday, October 9. The "We Believe…God's Not Dead" tour is one of the most in-demand nights of worship, praise and celebration this tour season. The tour also includes Hawk Nelson and Ryan Stevenson.
The tour is named for the band's hits "We Believe," the group's longest-running No. 1 single to date, and "God's Not Dead (Like a Lion)," which has been certified platinum by the Recording Industry Association of America.
Newsboys, a Christian pop rock band, was found in 1985 in Mooloolaba, Queensland, Australia by Peter Furler and George Perdikis.  Currently, the band consists of lead vocalist Michael Tait (formerly of DC Talk), keyboardist and bassist Jeff Frankenstein, guitarist Jody Davis, and drummer/percussionist Duncan Phillips.

Little Big Town – The Pain Killer Tour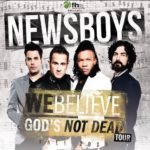 Event Date: Thursday, November 12, 2015 at 7:30 pm
Facility: Adams Center on University of Montana Campus in Missoula
Little Big Town is returning to Missoula! Special guests will be The Shires.
Little Big Town is an American country music vocal group. Founded in 1998, the group has comprised the same four members since its foundation: Karen Fairchild, Kimberly Schlapman (née Kimberly Roads), Jimi Westbrook, and Phillip Sweet. Their musical style relies heavily on four-part vocal harmonies, with all four members alternating as lead singers; Westbrook and Sweet also play rhythm guitar.
Pain Killer covers all new territory for Little Big Town. The band and its writing and production partners favored multi-layered effects. They drew from amix of music influences including vintage 50's country, 70's country, funk, groove, a cappella, bluegrass and straight up rock n' roll.  This evolution of Little Big Town's sound is the outcome of their free reign to write and craft as they chose, making Pain Killer as uninhibited as their creative process.

Hosts Elaine and Brady Anderson-Wood of Blue Mountain Bed and Breakfast welcome you to be their guests.  Experience their gorgeous, peaceful mountain setting that is in Missoula, Montana –the same town where these live concerts are performed on University of Montana campus.  Each morning guests delight in fresh, delicious gourmet breakfasts.
Written by Kristi Dement of Bed and Breakfast Blogging