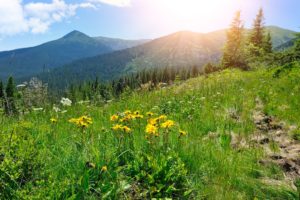 It's hard to believe that Labor Day is almost here, which means that the unofficial end to summer is just around the corner. In Missoula, though, there's still plenty of days left for adventure in the beautiful outdoors. Missoula is a place where you'll find miles upon miles of exhilarating biking adventures, whether on mountain trails or bike lanes and road routes.  In fact, Missoula has been ranked a gold-level bike friendly city, and a Top 5 Large U.S. Cities for Biking.  These distinctions reserved for a small handful of exceptional communities around the country.  With a new trail opening near our Bed and Breakfast, now is a great time to come to Missoula for a mountain biking adventure.  Book a room at our luxury Missoula Bed and Breakfast today.
Mountain Biking Trails
Within 10 short minutes of downtown Missoula, you can easily be in the scenic hills outside of town, where you'll find a tremendous network of mountain biking trails to discover and enjoy.  The newest of these trails, the Missoula to Lolo trail, is even accessible from our stunning Bed and Breakfast.  In addition to this exciting addition, which has been in the works for many years, there are plenty of great mountain biking areas in the outskirts of Missoula that are worth exploring.
Missoula to Lolo Trail
The seven-mile stretch of multi-use trail, which runs from Missoula to Lolo, is finally done.  This critical pice of trail, twenty years in the making, now provides a much-needed missing link in the popular Bitterroot Trail.  This trail parallels highway 93, which provides an excellent connection for bikers between our Inn and downtown Missoula.
Clark Fork Riverfront Trail
Rental bikes are available in downtown Missoula if you don't have your own, so you can easily make the 3mile trek along the Clark Fork Riverfront Trail.  The trail follows along both the north and south sides of the beautiful Clark Fork River, and travels through city parks, downtown, and near the University of Montana.  It's a fantastic way to see Missoula, and also offers a critical connection between the east side of the valley at the University of Montana to west-side neighborhoods, shopping, restaurants and several other attractions in Missoula.
Bitterroot Trail
The Bitterroot Trail is a beautiful forty-five mile trail that runs from Missoula to Hamilton, and parallels the ruggedly beautiful Bitterroot Mountains.  Along the way, riders will enjoy stunning mountain scenery and travel through many charming small towns.  The Bitterroot Trail is a truly fantastic way to explore Missoula and its surrounding communities.
Blue Mountain Recreation Area
The Blue Mountain Recreation Area offers great variety in mountain biking trails, breathtaking views, and a forest-fire lookout at road's end. Though these breathtaking views are reachable by road, the 5,500 acres are much better explored by trails.  Hikers, equestrians, bicyclists, people in wheelchairs and ATV enthusiasts are all welcome.  Forest Roads 365 and 2137 are particular favorites.
Kim Williams Nature Trail
The Kim Williams Nature Trail begins somewhere on the southside of the Clark Fork Riverfront Trail.  It's the perfect trail for cycling, walking, jogging, and horseback riding.  The trail meanders through a 134-acre natural area of the Hellgate Canyon, and is a wonderful place for wildlife sightings.
Pattee Canyon Recreation Area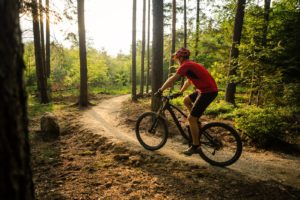 The Pattee Canyon Recreation Area has been a favorite mountain biking destination in Missoula for years. The 3,200-acre area is filled with beautiful ponderosa pines and a sprawling network of scenic trails for hikers, horseback riders, bicyclists, and cross-country skiers during the winter.  Popular trails here include the Sam Braxton Trail, and the Crazy Canyon Trail.
Rattlesnake National Recreation Area & Wilderness
The Rattlesnake National Recreation Area and Wilderness is home to 60,000-acres of Montana wilderness.  There are a variety of well-developed trails here for hiking, backpacking, horseback riding and bicycling.  The Main Travel Corridor is a popular mountain biking trail, as is the Spring Gulch/Stuart Peak Trail.
With so many major trails and recreation areas located just minutes from downtown, its no wonder Missoula is such a popular mountain biking destination. Take advantage of our close proximity to biking trails and downtown Missoula, and book your room at our luxury Missoula Inn today.