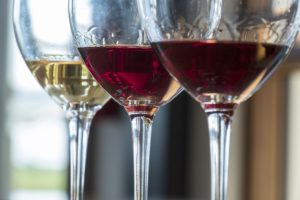 Tour the many Missoula tasting rooms and discover a new favorite wine, beer or spirit. Whatever your adult beverage of choice, Missoula offers a variety of excellent libations in fun establishments. Sip a flight of local wines while listening to great live music. Or relax on a sunny patio while tasting a sample of several craft beers. Before a dinner out, savor a perfectly balanced cocktail made with small batch spirits. The local wineries, breweries, and distilleries take pride in their products and love to share their passion and knowledge. Many offer fascinating informational tours, but be sure to check if reservations are needed. Blue Mountain Bed and Breakfast has a serene location just a short drive to downtown Missoula. We'll have you rested and ready for another day of exploring. Book your summer getaway at our quiet retreat with breathtaking views.
Beer Tasting at Local Breweries
If there's a favorite Missoula drink, it must be beer. The choices of breweries around Missoula is huge to say the least. Here's a taste of the vast number of breweries to visit in the area:
Wine Tasting Bars
Wine lovers find wonderful choices to sample the creative blends of our local vintners. Lovely locations and live music make for great day discovering new wines. Pick up a few bottles of your favorites to remember your visit:
Montana Winery – This warm, inviting tasting room has a unique wine barrel inspired bar and many small tables. The Last Best wine series are wonderful white and red blends perfect for all occasions. Sample a flight of the excellent signature Soul series while enjoying live music.
Ten Spoon Tasting Room

 – In addition to using grapes from small Washington vineyards, Ten Spoons also grows a French-American hybrid grape. These special vines thrive to temperatures -30 degrees, perfect for Montana winters. Stretch out on their lawn, surrounded by mountain views, and sip their award winning Flathead Cherry Dry and Cherry Blossom wines. Bring a picnic dinner and enjoy live music on Thursdays and Fridays.
Distillery Tasting Rooms
Missoula also has wonderful local distilleries serving up fine spirits and signature cocktails. Small batch vodkas, gins and whiskeys are blended, mixed and shaken in original and creative drinks. Add visiting these wonderful places to your tasting tour:
Montgomery Distillery

– Cocktail enthusiasts will love the inventive drinks using their Quicksilver Vodka, Whyte Laydie Gin, Montgomery and limited-edition spirits. The classy lounge remind guests of the bygone era while sipping a classic cocktail or temperance drink.

The Montana Distillery

– They carry an impressive variety of flavored vodka from raspberry and vanilla to coffee and bacon. Created with all natural ingredients and no added sugars. The Sunday "Big Montana"(tm) Bloody Mary and Caesar bar is a highlight of a visit here.

Rattlesnake Creek Distillers

 – Known for their whiskey,  Hogan's Hooch, distilled from Montana grains. This cozy and comfortable tasting room serves up

smooth gin, bourbon and vodka. They create many twists on the standard Moscow Mule.
After your adventures tasting Missoula's wonderful beers, wine and spirits, return to your private room at the Blue Mountain Bed and breakfast. We'll have your guest suite ready and a hearty, gourmet breakfast waiting for you in morning. Reserve a romantic vacation today with wonderful views of the wild Montana scenery.