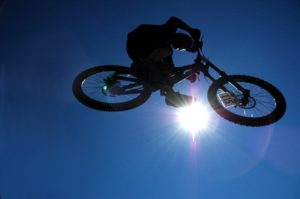 Biking in Missoula means daily commuting, touring downtown and flying down mountain trails. Bicycle Friendly America awarded Missoula a Gold level rating, because of the over 20 miles of bike lanes and city biking routes. However, it's the scenic mountain trails with exhilarating descents that draw most visitors. With its huge network of biking trails, Missoula is a mountain biker's paradise. The Blue Mountain Bed and Breakfast is close to all the great biking recreational areas and a short drive to downtown restaurants and pubs. After a restful night, our delicious, hearty breakfast will have you fueled up for a day of hitting the trails. Then return to your comfortable room and soak those tired muscles in a jetted tub. Book your biking adventure in Missoula today at our stunning mountainside location.
Biking Trails
Mountain biking in Missoula has everything riders are looking for: scenic slopes, natural beauty, and a wide choice of trails. Conquer the physical and mental challenge of climbing a steep slope and the reward of a magnificent vista at the top. Then race to the bottom for an adrenaline rush payoff. Or take a more casual pace and appreciate cruising through dense forests and along pristine streams.
The Rattlesnake National Recreation Area is a favorite among local mountain bikers. The 60,000-acre wilderness complex offers 73 miles of trails perfect for newbies to veteran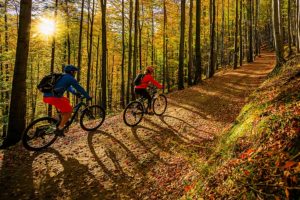 bikers. The Rattlesnake Corridor is a mostly flat 18-mile round-trip ride, while the Rattlesnake Creek trails winds under rocky cliffs and a dense forest canopy. The scenic intersecting trails provide diverse terrain and stunning views.
Many other large recreational areas have great trails to explore as well. The historic Bitterroot Trail, a 20 mile paved route, connects Missoula to Hamilton. Along the way, admire the rugged Bitterroot Mountains and many quaint towns. For breathtaking views explore the 41 miles of trails at the Blue Mountain National Recreation Area. And the Pattee Canyon Recreation Area has 27 miles of trails among ponderosa pine forests.
There are also trails perfect for a short, leisurely sightseeing ride. The Clark Fork Riverfront Trail starts at McCormick Park and heads East to the University of Montana. After crossing the Madison Street Bridge head back to the park for a pleasant 3 mile loop. The Kim Williams Nature Trail branches off the riverfront walking trail. This 2.5 mile ride goes through a lovely 134-acre natural area of the Hellgate Canyon. It's a great route to spot wildlife along the river.
Biking Tours, Shops and Rentals
In 2012 Outside Magazine named Missoula one of the Top 10 Bicycle Communities. Cyclists in Missoula take their biking gear seriously. As a result, there's a high number of quality bike shops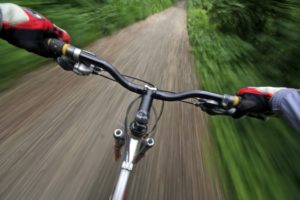 all around the city. Stop by a shop to tune up your bike, pick up some accessories or get local advice for the best trails.
Mountain Biking Missoula is not only a great bike shop but they also offer biking tours. Join a "Quick Spin" (tours under 2 hours) or the "Heart Pumping Trails" to "Epic Trails" that are one to several hours. They even offer a fun "Missoula Microbrew Tour" that visits 6 microbreweries downtown.
Check out the friendly shops with knowledgeable staff for bike rentals, service, gear and accessories:
Missoula has everything for an exciting biking vacation with its spectacular mountains and endless choice of trails. After a day biking, explore the city's wonderful restaurants and lively nightlife. The Blue Mountain Bed and Breakfast's sweeping mountain views inspires guests each morning to begin a new adventure. Reserve your room with us today and get ready for an unforgettable biking vacation.