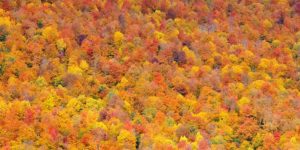 The beautiful fall season has arrived in Missoula along with crisp, sunny weather. The mountains and valleys are glowing with vibrant amber, crimson and golden leaves. Soak up the fall scenery on endless hiking and biking trails or on a relaxing countryside drive. Not to mention walking the beautiful tree-lined streets of Missoula's lively downtown. Around mid to late October the colors will reach their peak brilliance, so now's the time to plan a fall getaway. Plan your stay at the Blue Mountain B&B with amazing views of the Bitterroot Valley and River. Our mountain side location, just minutes from the heart of Missoula, is also close to all the outdoor activities.

5 Fall Hikes and Walks in Downtown Missoula
The center city of Missoula has many mature trees in the city parks and along the streets. Pull on your favorite cozy sweater and explore the fun restaurants, coffee houses and micro breweries. Then check out these nearby scenic walks with great fall views:
The University District – Missoula has trees everywhere and the university's campus is one of the most beautiful in the country. Explore the lovely grounds while strolling under huge maple and oak trees.

Mount Sentinel – After walking the University of Montana district take the steep hike up Mount Sentinel, also called the "M." Your climb is rewarded with a great view of the Missoula valley covered in fall colors.
Waterworks Hill –

Grab a picnic lunch before heading out to this quick and easy hike to Waterworks Hill. The Cherry Gulch Loop trail can be picked up at the intersection of Broadway and Madison. This trail is 2.2 miles round trip and offers panoramic views of Missoula and the Rattlesnake area.

Clark Fork River Trail –

The Riverfront Walking Trail along the Clark Fork River has lovely views of the city park and trees reflecting in the river. Pause at McCormick Park to sit by the pond to appreciate the city and mountain views.

Greenough Park –

Located just minutes from downtown Missoula find this 42 acres park with trails along the Rattlesnake River. The charming nature trails and footbridges make for an idyllic walk under the fall canopy.
5 Fall Scenic Drives and Hikes Near Missoula
The Montana countryside is simply breathtaking and the autumn colors just enhance the natural beauty of this region. There are plenty of day trips not far from Missoula that are worth the drive. Take your time and enjoy the journey to these destinations:
Fall is a magical time to visit Missoula and the landscape at its most stunning. After exploring the beautiful mountains or lively downtown, return to your quiet retreat at the Blue Mountain B&B. Relax watching the sunset behind the mountains from one of our multi-level decks. Book your luxury guest room with us today before the colors fade.