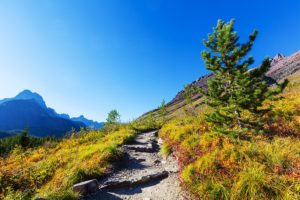 Fall is a favorite season for those that love the outdoors in Missoula. The cooler weather, brilliant fall colors and quieter hiking trails all make fall the best time for a getaway. The beautiful landscape with rivers, lakes, forests and mountains are home to all kinds of wildlife. Explore beautiful trails leading to sweeping vistas of the glowing autumn treetops. Along the way watch for a variety of birds and mammals that make their home in the Montana landscape. Keep enjoying the great views after a day of fall hiking, by staying at the Blue Mountain Bed and Breakfast. Nestled in a mountainside overlooking the Bitterroot River and surrounding valley, our guests wake up to breathtaking views each day. That along with a hearty, gourmet breakfast will have you ready for another day of adventures. Reserve your luxury suite with us today and a relaxing fall vacation in beautiful Missoula.

Wonderful Fall Hiking in Missoula
Missoula's Lolo National Forest has over 700 miles of hiking trails and the area also includes Rattlesnake National Recreation Area. The dramatic glacial landscape has over 33 miles of trails. Paths lead to stunning vista, lake and forest views, and the chance to spot an array of wildlife. The lakes and meadows are home to raptors, coyotes and even wolves. While in the deep woods you might be lucky enough to spot elk, deer or perhaps a bear. Also keep an eye out for several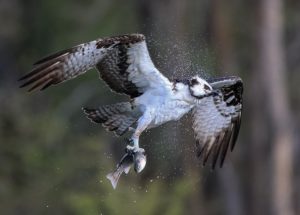 bird species such as grouse, hummingbirds and warblers. When following the steeper trails look out for sure-footed mountain goats and bighorn sheep. The Blue Mountain Recreation Area has over 4,000 acres with 41 miles of trails. A favorite for bird watchers is the Maclay Flat Interpretive Trail that also includes informational signs along the way.
For more great bird watching chances visit Kelly Island, Council Grove and the Seeley Lake area. The access to lakes and rivers attracts water-loving birds like sandpipers, killdeer, bank swallows, blue herons, bald eagles, and osprey. Greenough Park is a 42-acre park made for bird lovers. Stop at the many interpretive signs about birdwatching and look for pileated woodpeckers, red-breasted nuthatches, and song sparrows. Waterworks Hill and Kim Williams Trail have the best viewing for meadow birds. Hawks, falcons, meadowlark and sparrows dart and dive over the grassy fields. Mount Jumbo and Pattee Canyon also have great bird-watching opportunities.
Another wonderful nature preserve for wildlife viewing is the Lee Metcalf National Wildlife Refuge in the Bitterroot River Valley.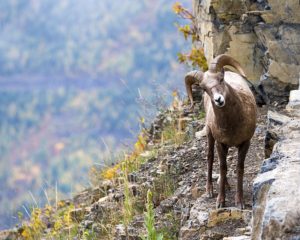 The refuge has 2 miles of nature trails with wildlife viewing areas. If you're looking for a chance to see magnificent bighorn sheep visit the Petty Creek Bighorn Sheep Viewing Area, Koo-Koo-Sint Bighorn Sheep Viewing Site, Spring Creek Sheep Viewing Site or Babcock Mountain Trail #10. While the National Bison Range is worth a day trip to see herds of these impressive animals.
Not all hikes are found in the distant mountains or wilderness. Within the city of Missoula are several serene hikes perfect for enjoying the colorful fall foliage. The tree-lined streets of the University District makes a lovely walk or hike up to the "M" on Mount Sentinel for great views of the Clark River and Missoula Valley. The Clark Fork Riverwalk offers a hidden oasis within downtown Missoula that features charming wooden bridges over the river and views of the historic district.
After hiking the amazing natural beauty of Montana, return to your private retreat at the Blue Mountain Bed and Breakfast. Soak tired muscles in your very own jetted tub, then enjoy a sun set view from our multi-level deck. Plan your fall getaway to Missoula for extraordinary hiking in the autumn beauty.