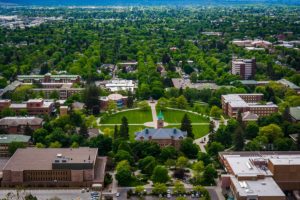 The list of reasons to visit Missoula covers so many interests and activities. Are you here for the great restaurants, nightlife and culture in downtown Missoula? Whereas others come for the stunning mountains, forests and rivers. Perhaps it's the perfect balance of city and outdoor activities that's one of the best reasons to visit Missoula. In Dina Mishev's Washington Post article, she highlights all the reasons to visit Missoula. Such as the historic downtown and beautiful college campus that offer a vibrant city experience without the suffocating crowds. Montana's second largest city packs a lot of things to do in its smaller size. The article also mentions all the awesome outdoor opportunities, from hiking to skiing and fishing to white water rafting. 
We couldn't agree more with this love letter to Missoula and all the reasons to visit Missoula. The Blue Mountain Bed and Breakfast location is just a short drive to downtown Missoula, yet close to all the outdoor adventures. Our guests enjoy sweeping views of the river valley and outstanding hospitality. Reserve your private suite at the Blue Mountain Bed and Breakfast for an unforgettable Missoula getaway. 
5 Best Reasons to Visit Missoula
A Missoula vacation includes everything found in a great city, in addition to exciting outdoor activities. This lively city has wonderful restaurants, arts, culture and nightlife. While visitors can also play all day in the surrounding mountains, rivers and forests. Find your best reason to visit Missoula: 
Come out to Montana and find your own personal reasons to visit Missoula. Any season is the perfect time for a Missoula vacation. Book your escape today to a great city with the best access to outdoor adventures.