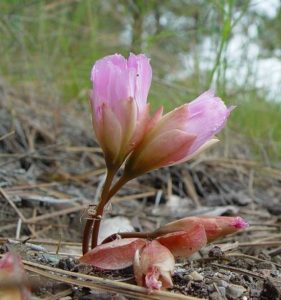 "Festival" of the First Flowers and Montana's State Wildflower ID Link

Celebrating Missoula's early blooming beauties- the buttercups, yellow bells, shooting stars, pasque flowers and star flowers from March to May!  Not only do we celebrate the first flowers here at Blue Mountain Bed and Breakfast, but the Missoula community does its own celebrating.  There are wild flower classes and group hikes as well as the Forest/Flower Run for the Trees that help usher in the spring.  Run Wild Missoula is a non-profit organization that organizes many healthful activities so it's a good idea to check out their long calendar of events.  May through December, there is always something going on.   The Missoula Marathon and Half Marathon in July is gaining notoriety and is now considered to be one of the best marathons in the country!
  MISSOULA'S FIRST FLOWERS:  Tips on how/when to photograph wild flowers & ID them on the MT Gov.Link.


I suppose the Pussy Willow (Salix discolor) might be considered as one of the first wildflowers even though it actually is a shrub.  Its lovely silvery soft buds help ring in the spring like a silver church bell.  Even though it is not a flowering ground plant, it does happen to be one of my favorites.  Because the buds grow along each stalk, it makes a beautiful first bouquet and adorns our home in celebration of various family birthdays.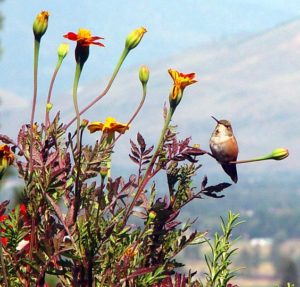 There is nothing quite like the bright, yellow welcome that the Sagebrush Buttercup (Ranunculus glaberrimus) brings to our Montana mountains and valleys.  Solitary flowers, popping up out of the snow with petals like buttery popcorn.  In other areas, the tiny yellow heads mingle with the green of new moss in secret shady places. In truth, buttercups blanket the ground in a beauty that can only be appreciated after many long months of winter and snow.  Like the first butterflies of spring, their beauty makes our hearts flutter with a sense of renewal and joy!  My mother always placed a single golden flower on our dining room table in celebration of spring and in anticipation of more beauty to come.
Native people used the buttercup for medicinal purposes.  Buttercups can be found on the surrounding hillsides as early as February and a few can be found into May.  Once the buttercups are blooming, a rainbow of other floral colors continues to unfold throughout the spring.  The purple of pasque flowers, the delicate pink of the shooting stars, along with star flowers and yellow bells ring in the early spring months while the balsamroot, lupine, paintbrush and others soon follow.
*The Alpine Buttercup (Ranunculus eschscholtzii) blooms at a higher altitude than we find at the bed and breakfast.  It can be found blooming from June through August in certain locations.  We recommend visiting The Buttercup Cafe for a delicious treat as a way of warming up either before or after an early spring hike!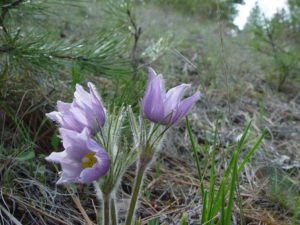 *The Yellow Bell (Fritillaria pudica) is the color of sunshine.  It's nickname is the mission bell which has a beautiful ring to it and reminds me of some of the areas earliest and most beautiful missions.  St. Mary's down the Bitterroot, St. Ignatious, in the Mission Valley, and The Cataldo Mission in northwestern Idaho.  The yellow bell can be found lightly scattered throughout Pine forests, sage or Bunchgrass in April and May.   It has a long stem and intricate markings, much like the shooting star.  The Salish people gathered the tuber of this flower in early May which was washed and boiled and often mixed with the Bitterroot before eaten.
*The Star Flower/Prairie Star (Tellima parviflora) can easily be missed as it delicately hides among the grasses and other wildflowers from April to June.  Once spotted, it is like finding a little treasure.  The dainty flowers, also known as fringe cup, look like symmetrical snowflakes with just a hint of light pink sunset added to their color.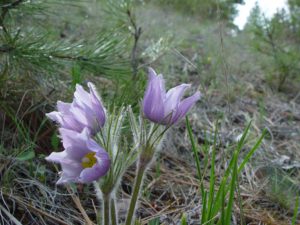 *The Shooting Star (Dodecatheon pulchellum) blooms in late April through May here on the mountain.  In shady areas, you sometimes can find a few tucked away in August in certain forests.  As a young child, I remember our family climbing a hill in the Miller Creek area where hundreds of shooting stars bloomed.  With the encroachment of weeds and warmer weather, we now look elsewhere and enjoy the few beauties that decorate our hill.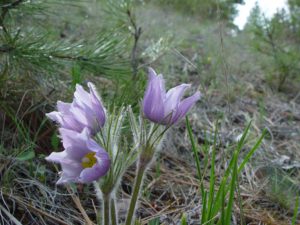 *The Pasque Flower (Anemone occidentalis) is another fairly early bloomer.  It's medium-sized purple petals welcome the spring in full beauty in May and June.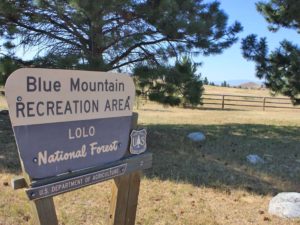 AREA HIKES:
Missoula and the surrounding area offers a multitude of options for finding some of the first flowers.  Here are a few Wildflower Walk suggestions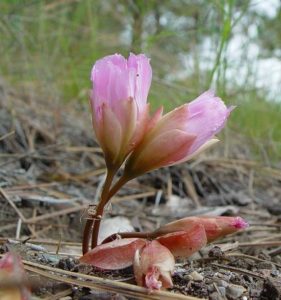 Here at Blue Mountain Bed and Breakfast, we have many guide books as well as these LINKS to help you identify the flora of the area.  If you wish to take a day hike near the bed and breakfast, stop by for a quick tour!  We are more than happy to lend you a book and give you some hiking suggestions.  Upon your return, you can re-charge your batteries by enjoying a glass of sun tea in the shade while listening to our backyard waterfall.  If you would like to spend several days in the area, call us or book a reservation on-line.  It's the perfect way to escape into nature and totally relax without having to drive miles to get somewhere!
*Our hillside is full of blooming, native plants; here are two resources for native seeds, including Milkweed, so you can grow them as well.
*Beautiful spring wildflower photos!
@ All photos taken by Blue Mountain Bed and Breakfast