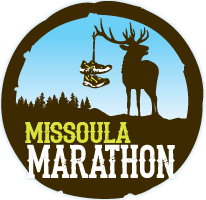 The lovely Blue Mountain Bed and Breakfast of Missoula is fortunate to be located in an active community that encourages running.  The Missoula Marathon, happening July 10-12 in 2015, is brought to us by Run Wild Missoula.  Run Wild Missoula promotes and supports running and walking for people of all ages and abilities. With over 1,700 members, they offer races, group runs, track workouts, seminars and more.
Rated in 2010 as USA's Best Marathon, experienced runners come back year after year to run the Missoula Marathon.  United States Olympian Jeff Galloway said that this is one of the top four or five courses he has ever run.  That should not discourage those with less experience, because this was also rated as one of the Top 10 Marathons for Beginners.  Now people from all fifty states plus at least ten different countries participate every year.
The people of Montana involved in organizing the race are passionate, friendly, and supportive.  They also are organized and give regular updates via email and social media for race participants to see.  Runners feel welcomed and prepared.  Missoula is a great place to stay active and live healthy.  Residents have the benefits that come from most bigger towns, but they still experience a local community feeling.
Starting at 6 am, with the sun coming up, runners begin with breathtaking views of the valley and the gorgeous surrounding mountains.  As they run in a beautiful ranch setting and up on the hillsides,  go past the University of Montana area, and on to Downtown Missoula.  As runners make that last turn onto Higgins, they experience a rush from the crowds of people lining the streets cheering them on.
The short five minute video below shows people exactly what to expect.  One runner said, "You try to find a course that is a little bit of everything and I think that is what Missoula is."
Blue Mountain Bed and Breakfast can be your place of rest, with our luxurious bedrooms, and refreshment, with our delicious and hearty breakfasts. However you stay active or relax, hosts Brady and Elaine accommodate guests with their warm hospitality.
Written by Kristi Dement of Bed and Breakfast Blogging