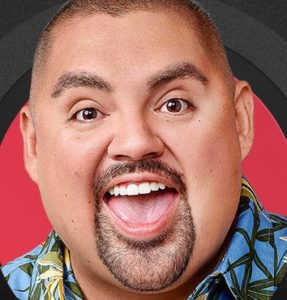 Missoula hosts comedian Fluffy!  Comedy lovers unite when it comes to watching comedian Gabriel "Fluffy" Iglesias.  American comedian, actor, writer, producer and voice actor. He is known for his shows I'm Not Fat… I'm Fluffy and Hot & Fluffy. He employs storytelling, affected voices, and sound effects in his act.  His other trademarks include references to his weight and his use of Hawaiian shirts.  Everyone likes "Fluffy"!
Fluffy will be performing an entertaining live comedy show at University of Montana's Adams Center on Saturday November 7 at 7:30 pm.  Many people have already seen him on television and in movies and laughed at his funny jokes.  Come to Missoula, Montana to be there in person to see him on stage!
Just a reminder that the popular country music group Little Big Town performs five days later at the Adams Center on Thursday November 12, 2015.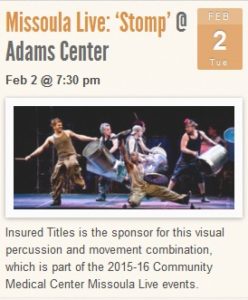 Tickets go on sale starting October 30, 2015 to see "Stomp" in concert at the Adams Center on Tuesday February 2, 2016 at 7:30 pm.  Stomp is a percussion group, originating in Brighton, UK that uses the body and ordinary objects to create a physical theatre performance.  Concerts with these popular percussion performers sell out fast!  When you get reserve your tickets, please stay at our lovely Blue Mountain Bed and Breakfast right here in Missoula.  Our peaceful, scenic inn is conveniently close to University of Montana's main campus in Missoula.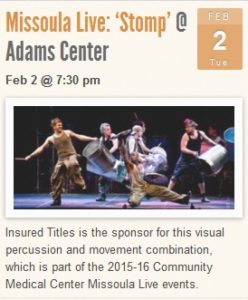 Tickets go on sale starting November 20, 2015 to see the Broadway hit "Mamma Mia" on Friday March 25, 2016.  This Broadway musical was the basis for the 2008 Golden Globe-nominated movie "Mamma Mia" starring Meryl Streep.  Over 60 million people have seen the Broadway show, which has grossed $2 billion worldwide since its 1999 debut.
Hosts Brady and Elaine Anderson-Wood prepare a delicious breakfast each morning. When you make reservations to see these memorable performances, be sure to reserve a room at their gorgeous mountain retreat!