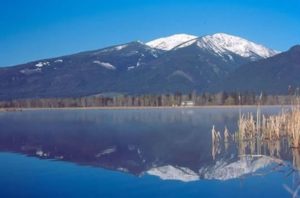 Montana is called the Big Sky State for a reason; it's a state of unlimited possibilities for adventure, and the sky is truly the limit. In that same vein, a trip to Missoula wouldn't be complete without some sort of exciting outdoor adventure.  With the warming spring months upon us, there's no better time to plan your adventures for the upcoming year, either.  Spring in Missoula happens to be a fantastic time to try your hand at fishing; trout fishing in particular. Fishing is a central part of life during the spring and summer months in Missoula, and of course there is no shortage of lake and river waters to explore.  Come stay with us at Missoula's best Bed and Breakfast this spring, and experience the joy of fishing in Missoula for yourself.  
Missoula's Best Trout Fishing
Missoula was recently named one of North America's top ten trout fishing towns by Forbes Magazine.  That's a huge commendation, but no surprise to those of us familiar with the fishing in and around Missoula.  Though fishing on Missoula's rivers and streams generally doesn't get underway during the 3rd weekend in May, fishing on most regional lakes is a year-round activity.
Lake Fishing
Of the many lakes around Missoula, none are more popular for trout fishing than Flathead Lake, just north of Missoula. Flathead lake is a wonderful destination for Lake Trout and Cutthroat Trout, as well as yellow perch and increasingly popular whitefish.  Early spring fishing brings lake trout out of deeper waters and closer to the shore in search of food, which makes for excellent trout fishing opportunities along the lakeshore.  Georgetown Lake to the south is a popular destination to fish in search of Brook Trout, Kokanee, and Rainbow Trout.  To the east is Placid Lake, Seeley Lake, and Salmon Lake, where you'll find trout, Kokanee, Northern Pike, largemouth bass, yellow perch, and mountain whitefish.
River fishing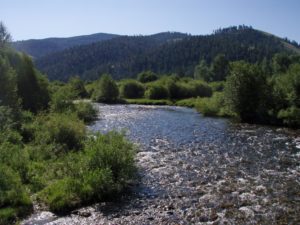 Though the river and stream fishing seasons don't get underway until later in May, now is a great time to plan for fishing adventures later this spring.  Popular rivers in the area for trout fishing include the Blackfoot River, Bitterroot River, and the Clark Fork.  Expect to find mostly Brown and Rainbow Trout, mixed with a variety of other game fish, including perch, bass, Northern Pike, and whitefish.  Rock Creek is also a famous destination known for its blue ribbon trout fishing. Game fish in Rock Creek include Brown Trout, Rainbow Trout, Rainbow X Cutthroat Trout, and Westslope Cutthroat Trout.
For an ideal fishing experience in Missoula, you may want to use one of Missoula's experienced fishing guides or outfitters.  They are experts in our local waters, and can help guide you to a successful fishing trip you won't soon forget. Stay at our relaxing Inn in Missoula this spring, where the world's best trout fishing waters are at your fingertips.