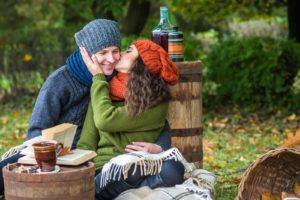 These crisp, fall months practically beg us to curl up in front of a warm fire, safely protected from the harsh elements outside. What's better than curling up someone special and focusing on romance? In Montana, there's one romantic getaway destination that outshines the rest. The charming town of Missoula, Montana, imbues a sense of adventure and romance around every street corner and in every restaurant and shop. Spend your days browsing the boutique shops in downtown Missoula, enjoying a glass of Missoula's finest craft beer, or enjoying an adventure whilst taking in the magnificent fall foliage. No matter how you choose to spend your time, theres no better place to reconnect than our Missoula Bed and Breakfast. Book your room today.

Romantic Getaway in Missoula
Missoula is an exquisite place to be during the cool autumn months. Whether its the simple pleasures of enjoying an intimate dinner together, or an inspired adventure designed to bring you closer together, Missoula has what you're looking for. Here are 10 of our favorite ways to spend a romantic getaway at the elegant Blue Mountain Bed and Breakfast:
As always, your romantic getaway to Blue Mountain Bed and Breakfast begins with our warm hospitality. What follows will no doubt be charming getaway filled with plenty of romance. Book your stay at Montana's finest Bed and Breakfast today!