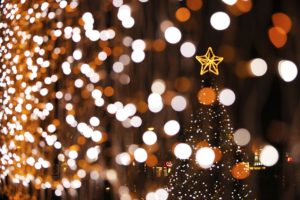 Though many of us are still in a state of denial, the holidays are rapidly approaching. Next week, families will gather around their traditional holiday tables, and so begins a month-long celebration of joy and giving. With a wide variety of shopping and holiday events to enjoy, there's no better place to unwrap new holiday memories than Missoula. Whether you choose to join of for an amazing Thanksgiving feast, holiday shopping, dazzling light displays, a relaxing getaway, or other fun holiday-themed activities, you'll find nothing but joy and merriment in Missoula throughout the upcoming holiday season. To get started on your getaway, book a room at our exquisite Bed and Breakfast today.
Holiday Events
Each year, the city of Missoula hosts a variety of fun holiday holiday events, each designed to bring out the holiday spirit and to bring us closer together, during what is often the busiest time of year for many.  Here are a list of our favorite holiday events that you won't want to miss:
There's no better way to start off the holiday season than by booking a getaway to our stunning Bed and Breakfast in the beautiful town of Missoula.  Christmas in Missoula is a magical celebration, filled with a variety of wonderful holiday events.  We look forward to helping you relax during the busiest time of year. Book your getaway today, and come celebrate Christmas with the Blue Mountain Bed and Breakfast.