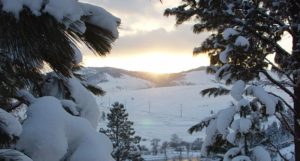 Downtown Missoula, known for it's interesting and unique artsy vibe, is an excellent place to spend some time during these cold winter months.  So many of us tend to stay indoors, out of the harsh elements of winter, but we urge you to do exactly the opposite.  Whether you're looking for traditional winter activities, such as skiing, snowshoeing, snowmobiling of sledding, or whether you want to try you're hand at something different, like a little dog sledding or ice fishing, Missoula is the place to be this snowy winter.  It doesn't matter what the weather does in Montana; there's always something fun and exciting going on here. Book your room at our wonderful Bed and Breakfast, and experience Missoula's winter wonderland firsthand.
Missoula; a Winter Wonderland
Missoula is the quintessential example of a winter wonderland.  There's so much to do in and around Missoula during the snowy months, and plenty of ways to renew your spirit and reconnect with nature at the same time.  All you have to do is get here, and we'll take care of the rest.  Once you're ready to play, here are our favorite winter activities to enjoy in Missoula:
When you're done playing in the snow and ready for a little down time, our Inn will be here waiting. We are conveniently located near downtown Missoula, and all of the restaurants and breweries you'll need to relax and refuel for the next day.  Book your stay at our Montana Bed and Breakfast, and experience these extraordinary winter activities for yourself!