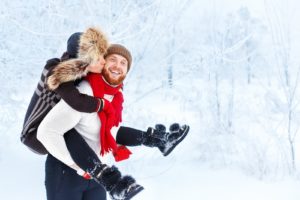 Valentines Day is just around the corner, and love is in the air.  It's time to let your inner romantic shine! Whether you love the opportunity to be at your most romantic, or dread having to make plans year after year, how about going beyond the traditional chocolate and flowers this year?  Instead, make your Valentines Day a meaningful one, and carve out some intimate time for just the two of you.  Make your Valentines day memorable with a romantic getaway to one of Montana's best Bed and Breakfasts. Book your room at the Blue Mountain Bed and Breakfast today!
Valentines Day in Missoula
We think February is the perfect time to get in touch with your inner romantic! For many, Valentines Day is the most romantic day of the year.  In honor of that, we're offering our guests a spectacular winter promotion.  From now through May 8th, if you book 3 nights, you'll automatically get a 4th for free.  That's a $150 savings!  This February, we're also offering something extra sepcial.  Parties of 4 or more can enjoy our "Something Sweet" dinner package for Valentines Day, which includes the following:
Start with chocolate hearts and a long stemmed rose
Enjoy an elegant candle light dinner of Italian Carbonara with shrimp and Italian sausage in a Marsala cream sauce. This is accompanied with a roasted red pepper soup, salad with huckleberry vinaigrette dressing and Italian flat bread.
Delicious chocolate fondue for dessert
$50.00 per person and includes non-alcoholic drinks. Please feel free to bring wine if you wish, we will provide the glasses.
Couples That Play Together…
In Montana, we live by the old adage "The couple that plays together, stays together." Winter is perfect for a little adventure, just for the two of you.  So, if the above package isn't enough to entice you to our romantic Bed and Breakfast, maybe these ideas will? Here are some ideas to get your romantic getaway off to a great start:
Whatever it is that draws you here, tap into your romantic side in Missoula this Valentines Day.  Book your room at our Montana Bed and Breakfast today.