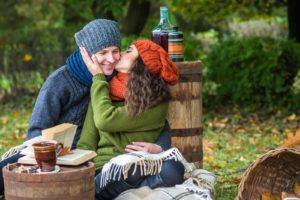 There's no doubt that many people come and stay at our romantic mountainside retreat in Missoula for a little romantic one-on-one time. Guests come for time away from the stress of everyday life, and for time to relax and reconnect with each other. In Montana, there's one romantic getaway destination that outshines the rest, and that is the beautiful town of Missoula. Missoula, often known for its rugged outdoorsy vibe, is also an incredible place for a shared adventure and a little romance.  It's easy to create the perfect date night (or day) in Missoula.  Go adventuring in the great outdoors, browse the boutique shops in downtown Missoula, enjoy a glass of Missoula's finest craft beer, or simply relax and take in the area's magnificent beauty. No matter how you choose to spend your time, theres no better place to reconnect than our Missoula Bed and Breakfast. Book your room today.
A Missoula Date Night
Romance comes easy in Missoula, and so planning a romantic date night will fall right into place.  Your only task will be narrowing down your experiences from all Missoula has to offer.  To get your creative juices flowing, here are a few of our favorite ways to enjoy a romantic date night in Missoula:
Come explore Missoula with us, and while you're here, squeeze in a romantic date night out on the town.  Leave the rest up to us!  Book a room at our Missoula Bed and Breakfast, where you can focus on nothing but enjoying your getaway.