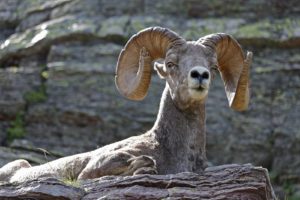 The spring and summer months in Missoula are perfect for getting outside and enjoying the splendid and abundant nature that surrounds us.  Whether you venture into the Blue Mountain Recreation Area just behind our Inn, the Lolo National Forest, or anywhere else near the rugged town of Missoula, you're sure to find untold treasures, spectacular views, and plenty of wild creatures along the way.  In fact, the opportunities for wildlife watching in Missoula are unparalleled if you're patient.  Venture into the wilderness, and you might just find bald eagles, osprey, bighorn sheep, badgers, mountain goats, deer, and so much more.  Our Bed and Breakfast is the perfect place to begin your journey, with 20 private acres of wildlife habitat, directly bordering a national forest.  Pack your binoculars and field guides, and book your room at our Missoula Bed and Breakfast today!
Missoula's Wildlife and Where to Find Them
When living in or visiting Missoula, wildlife become an everyday part of your life. Among others, black bear, deer, raccoons, and even mountain lions have been seen in and around Missoula with regularity.  Get out of Missoula and into one of the many trails or recreation areas, and the possibilities of seeing some wildlife, especially if you're patient and careful, increase exponentially. Below, you'll find just a few places that recommended as great wildlife viewing destinations in and around Missoula:
The Lolo Creek area, near the campground and picnic area, is a wonderful place to go birdwatching, especially if you're interested in migratory songbirds moving through the area in spring, summer, and fall.  The Maclay Flat Nature Trail in the Blue Mountain Recreation Area is great for birding as well.  You may even see a deer fjord the river as you watch.
The rugged forests of Pattee Canyon Recreation Area are a great place to view flammulated owls.
The Ninemile Area, particularly the Petty Creek Bighorn Sheep Viewing Area, is the perfect place to view a majestic bighorn sheep sunning themselves on the canyon cliffs and talus slopes, or feeding on the grassy hills.  Other great places to view these incredible animals are the Koo-Koo-Sint Bighorn Sheep Viewing Site, the Babcock Mountain Trail #10, and the Spring Creek Sheep Viewing Site, all located in the Rock Creek Area.  Lambing season continues through June 7, so check to see whether access to these areas is still restricted before you go.
The Seeley Lake area is an incredible place for birdwatching.  Especially popular here are bald eagles, osprey, blue heron, and more.  Visitors also often see a variety of other wildlife, including mountain lions, deer, moose, mink, otters, and more.  Popular areas and trails here include the Clearwater River Canoe Trail #777A and the Seeley Lake Wildlife Viewing Blind.
Antelope are another popular animal to spot in Montana, and they are plentiful. They graze in the eastern 2/3 of the state's open prairies, so keep your eyes peeled for this fast animals.
Black bears are another animal common to Missoula's forested lands.  They primarily spend their time foraging for fruits and nuts in the forests, but also head into the lowland wetlands for vegetation.  You'll also often find them in streams and pools during the hottest summer days; they like to cool off just as much as we do!
There are quite a few elk, deer, and moose around Missoula as well.  They can often be spotted foraging and relaxing in open meadows or around streams during the summer.
High in the rockiest hills above Missoula, it's common to spot the white fur and signature horns of the Mountain Goat.  They are amazing climbers, and can often be seen in what looks to be impossibly rocky terrain, but during the spring and summer hikers often encounter them in meadows as they eat and rest.
As always, exercise extreme caution when you come across any wildlife in nature. They are, after all, wild animals.  We humans are the intruders in their natural environment, and it's best to remember that.  Opportunities for wildlife viewing are truly spectacular in Missoula.  Book your room at our Montana Bed and Breakfast today, and start planning your adventures.