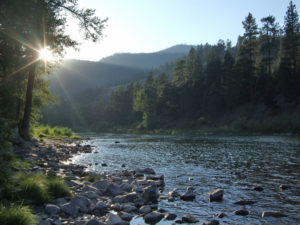 Summer is certainly off to a great start here in Missoula.  With temperatures well into the 90's for the foreseeable future, we'll definitely all be looking for places to cool off and beat the heat.  Luckily, in Missoula, there are plenty of places to enjoy the sun without overheating.  In fact, Missoula was even once named the Best River Town in America by Outside Magazine. From popular swimming holes to kayaking and paddling on rivers and lakes, we have your guide to the best boating destinations and water holes in all of Missoula.  Book your room at our Bed and Breakfast this summer, and come keep cool with us in Missoula.
Boating in Missoula
Whether you're looking to sit back and relax by the river or lakes, with an occasional dip into cold waters, or whether you want to try some kayaking, rafting, or stand-up paddle boarding, Missoula is the place for you.  You don't even have to go far for some boating, with Brennan's Wave in Caras Park Pavilion in downtown Missoula, which was constructed in memory of a Missoula kayaker.
Kayaking/Canoeing
Missoula is an incredible destination for kayaking and canoeing, and there are plenty of experienced guides that can help you make the most of your boating adventure. As mentioned above, Brennan's Wave is an excellent place to get in on the action, or just enjoy the show as others tackle the wave.  Missoula has also been the host to the U.S. Freestyle Kayaking Championships, as well as other kayaking competitions are held here each year.  If you're looking for a gentle place to paddle around, Frenchtown Pond State Park has a small, spring-fed lake.  Alberton Gorge also has a 12-mile stretch of river through a deep canyon, which is an ideal place for a boating adventure.  If you're up for some more extreme rapids to paddle over, the Blackfoot River is home to some great ones, like Thibbodeau Falls.

Rafting
Rafting in Missoula can be an exhilarating experience for rafters of all experience levels.  It's best to navigate the rivers with an outfitter, as the river waters can be deceptively swift, cold, and dangerous.  Some of the top outfitters include Montana River Guides, 10,000 Waves Raft and River Adventures, and Lewis & Clark Trail Adventures.
Swimming Holes
There are an unbelievable number of swimming holes in Missoula.  From lakes to rivers, here are the most popular places for some fun in the sun:
Clark Fork River
Blackfoot River
Bitterroot River
Stand-up Paddle Boarding
Stand-up Paddle Boarding, also known as SUPing, is one of the fastest growing water sports out there, and there are plenty of calm waters where you can test your balance.  Lakes, like the one at Frenchtown Pond State Park, are probably the best place to start.  The calm, flat waters will be an easy introduction into the sport.  If you want to try the faster moving rivers, there are a couple of popular and relatively easy places to do so.  On the Clark Fork river, the best place for SUPing starts at East Missoula at the Sha-Ron fishing access site.  After a nice trip down the river, you'll want to stop at the bridge at Finn & Porter or Bess Reed Park.  If you want to tour down the Bitterroot River, put in at Maclay Flat and cruise all the way to Kona Ranch Road Bridge.
Don't let the heat keep you away from Missoula this summer.  There are plenty of ways to keep cool and have fun boating on regional lakes and rivers!  Book your room at our Missoula Bed and Breakfast today.