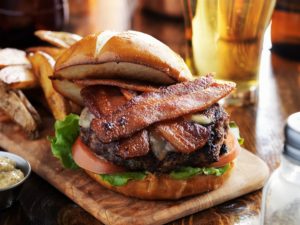 We can't believe summer is almost over in Missoula.  It's been another season filled with wonderful adventure and delightful guests.  While we're looking forward to the cool and colorful months of fall ahead, we aren't quite ready to let go of summer yet. Come join us for a last minute summer getaway, and experience the best dining Missoula has to offer. There are a lot of great ways to eat locally in Missoula, including food trucks, local bars, breweries and distilleries, and restaurants doing their best to serve up delicious, locally sourced dishes.  In fact, the sheer choice of places to dine in Missoula has never been better.  Come join us this summer, and give yourself plenty of time to eat your way through the best local dining establishments Missoula has to offer.  
Dining Locally in Missoula
Missoula's food scene has become incredibly popular in the last several years, and there's enough variation in restaurants here to satisfy just about every appetite. Whether you like quick bites at popular food trucks, small plates and handcrafted cocktails or brews, or traditional restaurants, Missoula has something for everyone.
Missoula Loves Food Trucks
Who doesn't love food trucks?  They offer a convenient and usually affordable introduction into a city's local flavors.  Much like the rest of Missoula's foodie scene, our local food trucks offer up some really fantastic flavors.  You'll find these food trucks at local farmers markets, as well as at popular local events Out to Lunch and Downtown ToNight.  Every Tuesday, Missoula's local food trucks congregate together on the corner of Scott Street & Toole Avenue.  Some of Missoula's most popular food trucks include Tia's Tamales, Galloping Griz Food Truck, Masala Food Cart, and The Big Dipper Ice Cream Truck.
Missoula's Locally Crafted Brews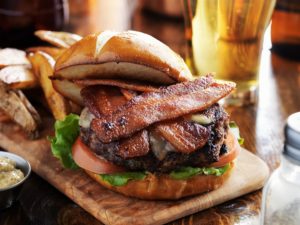 We've often blogged about the expansive craft brew scene in Missoula.  Our love of delicious, hand-crafted brews hasn't slowed. The Dram Stop is a great place to fill a growler and enjoy a selection of Missoula's finest brews.  If you're in the mood for something to eat, order off the "Grub Menu" from neighboring mainstay The Pearl. Other popular breweries include Big Sky Brewery, Bayern Brewing, and Draught Works.
The Best Handcrafted Cocktails
Missoula loves a great handcrafted cocktail almost as much as it does a craft beer. As a result, Missoula is home to some top-notch bars, serving up an incredible range of spirits. One of our favorite places to grab a cocktail is Plonk.  Here, you can grab a small bit to eat, such as their impeccably curated cheese board selection of the week, and enjoy it as you sip their signature cocktails.  Popular ones have been the Salma Hayek or the Salt and Pepper.  Another great destination for cocktails is Finn & Porter.  As an added bonus, their outdoor patio offers great views of the Clark Fork River, which runs right through the heart of Missoula.
Missoula's Top Restaurants
A blog about the local dining scene in Missoula wouldn't be complete without mentioning some of the most popular, traditional restaurants in town.  Some establishments where you'll find the best of Missoula's local flavor include:  Five on Black, The Depot Bar & Restaurant, The Shack Cafe, The Pearl Cafe, Market on Front, Notorious P.I.G., Hob Nob, and Red Bird Restaurant & Wine Bar.
As always, the accommodations at our Bed and Breakfast will be here waiting for you when it's time to relax for the evening.  If you need any help making reservations or planning your stay in Missoula, don't hesitate to ask our Innkeepers.  Making your stay a memorable one is our highest priority.  Book your room at our Montana Bed and Breakfast today!