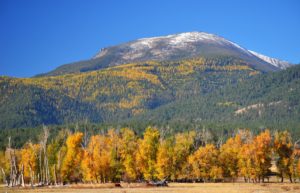 The beautiful and rugged city of Missoula is the place to be this fall. Missoula is both hip and trendy, and undeniably beautiful, perfect the avid nature enthusiast in you. Missoula is a getaway destination nothing short of rejuvenating, so pack a jacket and some hiking boots, and get ready to fall in love with Montana all over again.  Take advantage of these final months of autumn, and experience Montana without the packed summer crowds.  The Blue Mountain Bed and Breakfast is nestled on a peaceful mountainside.  There's no better place to start your journey than sitting amongst the Ponderosa Pines and meditative water gardens at our Missoula Bed and Breakfast.  We're here waiting for you, so book your fall getaway with us today.
The Best Parts of Fall in Missoula
Whatever it is you're looking for this fall, Missoula is sure to have it.  Downtown Missoula is historic and charming.  You'll want to leave plenty of time for browsing the independently owned shops, dining at top restaurants, and tasting the best of Missoula's craft beer scene. Missoula is ranked 2nd in the nation for craft breweries, so you'll definitely want to consider taking a brewery tour when you're here.  And, of course, when you want to enjoy a nightcap and a little entertainment, Missoula won't disappoint.  From the club atmosphere at The Badlander to the wine and cocktails at Plonk, Missoula will show you a good time.
Beyond Missoula's fabulous downtown, though, lies Big Sky Country.  Adventures in Montana are all about the great outdoors, and when you see how breathtakingly beautiful it is here, you'll know why. Here are 5 great reasons to visit Missoula this fall:
We're right in the heart of fall, and there are still plenty of colorful displays in the National Parks and Forests around Missoula.  See our previous blog for a few quick and easy places to enjoy the last leaf peeping of the year.
If you are short on time or prefer to take in Montana's splendid beauty from the road, there are a number of scenic drives in the area worth taking.  Western Montana truly is a road-trippers dream destination.  Wildlife sightings are common, and the landscapes are ablaze in color.
Fall truly is a feast for the senses, and there's nowhere better to enjoy the taste of fall than in Missoula.  Start with Missoula's best craft brews, small-batch distilled spirits, and local wines, then move on to restaurants featuring Montana-grown ingredients. Restaurants to put on your radar include The Pearl Cafe, Caffe Dolce, The Silk Road, and Plonk.
If you're looking for more adventure, fall is a great time for fishing, hiking, mountain biking, and wildlife viewing.  The Missoulian has an excellent guide to trails in and around town.
So much to do, and so much to see–especially during these glorious autumn months.  No matter what you choose to do, we know you'll love Missoula as much as we do.  Book your room at our Montana Bed and Breakfast today.