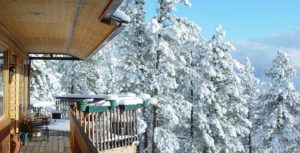 Winters are simply wonderful in Missoula, Montana.  There's so much to do, and the snow makes our already beautiful town simply magical.  There's plenty of outdoor activities, like skiing, cross country skiing, snowshoeing, and ice skating to keep you busy and having fun.  But when you're ready to come indoors, warm up a little, and enjoy a change of pace, Missoula has that, too.  We've put together a winter guide to the area, to help you make the most of your getaway.  Book your room at our romantic Bed and Breakfast this winter, and discover all of the fantastic things there are to do here each winter.  
A Guide to Enjoy Winter in Missoula
We've already talked about skiers and snowboarders in Missoula.  It's a great place to be if you love hitting the slopes every weekend, or even just in off afternoons.  Skiers and snowboarders in the area have a lot of terrain at their disposal, including Missoula's own Snowbowl, which features 2,600 vertical feet and just over 900 acres of skiable terrain.
But, if you're in to things other than skiing, Missoula is still a great winter destination.  Here's a great guide to other winter activities in Missoula:
When it's time to warm up, there are a number of wonderful bars and restaurants in Missoula.  Missoula really is the perfect winter destination, and it's beautiful here at the Inn.  Come see it for yourself, and let this be your guide to making the most of your getaway!  Book a room at our Montana Bed and Breakfast today.