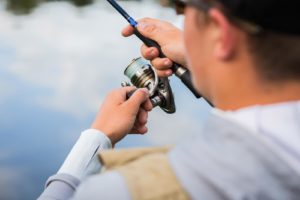 Think Missoula when planning your 2019 vacations. Missoula has a stunning, diverse landscape that includes every outdoor adventure imaginable. In addition to exploring the mountains, rivers and forests, this university town also offers great entertainment, dining and nightlife choices. When planning your vacation include a combination of the amazing outdoor and city activities for an unforgettable trip. The Blue Mountain B&B also has the best of both worlds. The tranquil location with great mountain and valley views is also a short drive to all the fun. Book your Missoula getaway at our idyllic inn today.

5 Missoula Outdoor Adventures
It's no secret that many come to Missoula to play in the gorgeous outdoors. Thrill seekers fly down our mountainsides on skis or bikes. While some come to restore their souls hiking through majestic forests or fly fishing along crystal clear rivers. Discover the wide open beauty of the Missoula countryside.
Fishing

– Missoula is a fishing paradise and fly fishing is considered more an art than a sport. Norman Maclean's illustrates Missoula's love of fly fishing in his famous novel "A River Runs Through It." With a wealth of lakes and rivers to choose from, anglers will never run out of new places to discover.

Hiking – 

Within the Lolo National Forest

hikers can choose from over 700 miles of trails. Inside the forest, find the popular Rattlesnake National Recreation Area, with its 73 miles of hiking paths. Stroll by clear mountain streams and tranquil lakes, while keeping an eye out for local wildlife.

Skiing – 

The action doesn't slow down in winter with many options to enjoy the mountains, forests and breathtaking views. However, Montana Snowbowl

is the hub of downhill skiing in Missoula. The mountain has dozens of runs from beginner to expert and the longest vertical drop in the nation. While the snow transforms Rattlesnake National Recreation Area into network of cross-country skiing trails.

Mountain Biking – 

Some like to experience the scenic mountain trails at top speed, while flying down exhilarating descents. The diverse landscape offers bikers summit views, dense forests, valleys and challenging paths. Find a vibrant mountain biking community at the local bike shops and tour groups.

Whitewater Rafting

– Get an adrenaline rush rafting on the high speed rivers all around Missoula. Choose from the professional guides that take care of all the planning and gear. Most have half or full day trips down Clark Fork River, Blackfoot River and many other adventures.
Missoula Nightlife, Entertainment and Culture
After enjoying an outdoor adventure, Missoula offers a lively downtown with a lot of options. Visitors and locals alike love the great restaurants, pubs and breweries. Also check out the excellent art museums, music venues and clubs.
Great Restaurants

– The city center has a wide variety of dining options from a romantic cafe to an energetic pub. Enjoy a night with great cuisine whether you're looking for sophisticated plates, 

gourmet pub food, handmade pasta dishes or just an excellent burger.

Nightlife 

– After a wonderful dinner explore the nightlife of Missoula. Sip an elegant cocktail in a historic distillery while enjoying some local jazz. Or finish your evening at a hopping club where you can dance late into the night.

Music Scene 

– The historic Wilma Theatre and the University of Montana are the pillars of arts and culture community. While Big Sky Brewing hosts an outdoor concert series every summer. Not to mention the small clubs and music venues all around the city.

Art Museums & Galleries – Artists and art lovers will find two great art museums with impressive collections and a thriving gallery community. The Missoula Art Museum features more contemporary art while the Montana Museum of Art & Culture focuses on a wide range of styles. The Missoula First Friday Nights

 are also a great introduction to the eclectic downtown galleries.

Missoula Brews – 

Missoula is the town for coffee and beer connoisseurs alike. Get your caffeine boost to start the day or find a quiet place to sip a coffee. Then end your day in the outdoors 

sampling the excellent craft beer at the local pubs and breweries.
Create your perfect vacation with great outdoor adventures and a lively nightlife. Stay right in the center of everything at the beautiful Blue Mountain B&B. Our comfortable guest suites and gourmet breakfasts will have you ready for a new day exploring all Missoula has to offer. Plan your exciting and relaxing Missoula vacation today!