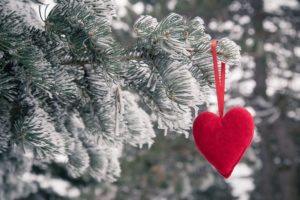 Valentine's Day should be celebrated all month and not just one day. In other words, treat your loved one to romantic getaway anytime this February. In fact, just a few minutes drive from downtown Missoula find your perfect, private retreat. Nestle in a mountainside, the Blue Mountain Bed and Breakfast has sweeping views of the Bitterroot River and valley below. Spend you days skiing, or snowshoeing in the magnificent mountains and forests or exploring the arts and culture in Missoula. After a romantic dinner at one of the many elegant local restaurants, return to your inviting, comfortable guest suites. Now is the time to book your lover's escape and warm up the last chilly days of winter.
Romantic Days in Missoula
The beautiful Montana mountains and forests offer great outdoor adventures to share. Downhill skiing thrills with breathtaking views are found at Montana Snowbowl. While the Lookout Pass Ski Trails have cross-country trails in addition to downhill. Also the miles summer hiking trails have transformed in a winter playground. Spend your day exploring the great cross-country and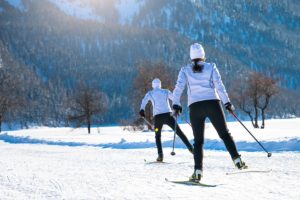 snowshoeing paths in the Pattee Canyon Recreation Area and Rattlesnake National Recreation Area. After a day on the mountains, you'll be glad that a big, soaking tub is waiting for you back in your room.
There's plenty of art and culture to enjoy in Missoula's city center. Art lovers have two excellent museums to explore. The Montana Museum of Art & Culture has a wide range of classical art while the Missoula Art Museum has a more modern collection. Music fans have many choices of venues and genres. The Top Hat and Wilma Theater hosts an amazing array of musical talent. Classical music buffs find their favorites at The Missoula Symphony Orchestra & Chorale. Not surprising, they will be performing the joyful, sometimes bawdy "Carmina Burana" this February. Theater goers have plenty of choices as well. Enjoy a live play at the Hamilton's Players, Inc. or and indie movie at the Roxy Theater. February also means it's time for The Big Sky Documentary Film Festival. This festival draws talent from all around the globe and the celebrated event takes place at venues throughout the city.
Romantic Nights In Missoula
We are fortunate to have a wealth of talented chefs that have made their home in Missoula. Resulting in an excellent choice of outstanding restaurants. For a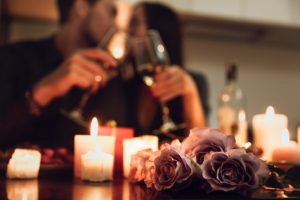 special night out there are many that rise to the top of the list. The Keep Restaurant has unique architecture and panoramic views setting the stage for a romantic night. For a more cozy atmosphere spend the evening dining at The Pearl with their heavenly French inspired cuisine. Find a touch of opulence at the intimate Red Bird. Linger after dinner with a glass of wine and enjoy live jazz on some evenings. Other local favorites are the cool and classy Plonk and James Bar. Any Valentine's Day dinner will be memorable at any of these wonderful restaurants.
Missoula is simply at its most beautiful and romantic during the snowy winter months. The landscape is covered in a blanket of snow, and chilly nights encourage cuddling up in a cozy B&B. Let the Blue Mountain Bed and Breakfast host your Valentine's Day vacation. Reserve your private suite with us today.