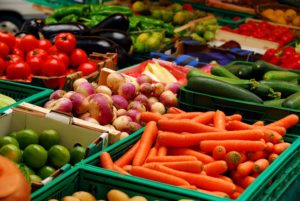 The Missoula Farmers Market is more than one open air space filled with fresh produce, crafts and artisan products. Missoula actually has 3 amazing and uniquely different farmers markets. These lively Missoula farmers markets are all downtown and within walking distance of each other. So spending a sunny spring or summer Saturday afternoon at all of them is a breeze. Grab a delicious breakfast or lunch at the hot food stands and then browse hundreds of vendors.
The Missoula farmers markets are a celebration of the Montana farms, rivers, and creative community. Enjoy the bounty of Montana and its sweeping landscape during your Missoula vacation at the Blue Mountain Bed and Breakfast. Our location, just minutes from Missoula, offers wonderful views of the Bitterroot River and surrounding mountains.
Wake each morning to our farm-fresh gourmet breakfasts using the same ingredients found at the Missoula farmers markets. Reserve a luxurious guest suite with us today for a romantic spring or summer escape to Missoula.
Explore 3 Lively Missoula Farmers Markets
The 3 Missoula farmers markets all open in May when the amazing local produce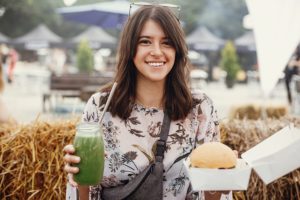 starts rolling in from the Montana farms. In addition to great food, the markets offer arts, crafts, and specialty items such as cured meats, honey, pies, cheeses, and preserves. Walking from one Missoula farmers market to another is a wonderful way to spend a sunny day in the city. Come out and enjoy some deliciously prepared food and treats along with live music.
Missoula Farmers Market – Nearly 100 local vendors draw the dedicated customer base each year, all looking for their favorite items. Of course, there's an abundance of fresh produce such as tomatoes, greens, carrots, melons, cherries, and apples. However, there's also bread, coffee, cheese, cured meats, and the best Montana fudge!
Clark Fork River Market

– Grab a tasty lunch at one of the hot food vendors and enjoy live music from 10:00 to 12:30 with your meal. On top of beautiful local produce (including the crowd-pleasing Montana huckleberries) find freshly baked bread, pastries, honey, salsa, jam, and wool items. Some of the most unique items offered include huckleberry pies on a stick, bison beef jerky and a wide variety of locally roasted coffee. 

Missoula Peoples Market – This market focuses more on handmade arts and craft items that cannot be found anywhere else. A beautiful painting, photograph, or piece of jewelry makes the perfect Missoula souvenir. Vendors also offer soaps, teas, crystals, clothing, leather bags, hats, furniture, flutes and fly fishing equipment. You're sure to find something special at this most unusual market.
The Best Lodging in Missoula
There's little doubt that one of our favorite things to do in Missoula in these spring months is get outside into the fresh spring air, browsing the vendors and taking in the community at the Missouola Farmers Markets.  That's not all Missoula has to offer this spring, though. With plenty of hiking, biking, birdwatching, and outdoor adventures both on our property and in the greater Missoula area, there's enough to do to keep you busy for days.
At the end of those long an busy days, turn to our Missoula Bed and Breakfast for the ultimate retreat!  The Blue Mountain Bed and Breakfast offers a serene location with tranquil gardens and fantastic views. We love sharing our space with guests and have taken a lot of time to curate the most relaxing retreat for guests. Close to downtown Missoula and all the outdoor activities, it has the best of both worlds. A few days here and you'll wonder why you haven't been before, and we'll wonder when we're going to see you again. Book your Montana vacation at our beautiful Missoula Bed and Breakfast today!