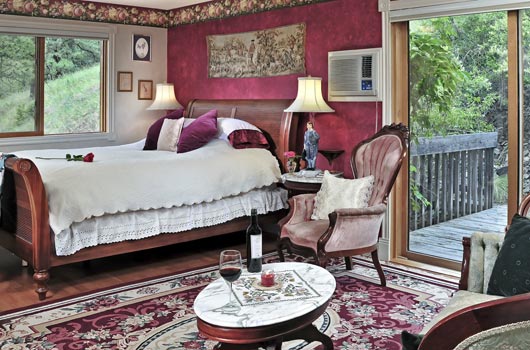 When looking for the best Missoula bed and breakfast you'll want comfort, proximity to things to do, and a place you'll feel right at home in. Our secluded mountain getaway has everything you could ever want in a bed and breakfast and then some! We are close enough to downtown yet far enough away for the peace and solitude you seek while on vacation. We serve a hearty breakfast meal to help get your day going and offer a dinner so you can leave everything up to us! We are set up with your ultimate comfort in mind so that all you have to do is sit back and relax.
Let our Missoula bed and breakfast be the escape you've been craving! Our well-appointed guest rooms are decorated in a rustic charm you'd expect from Montana accommodations. You'll feel as if you stepped into your own private mountain cabin. Look out your window to see views over the gardens on our property, the nearby forest, the surrounding mountains, or the Bitterroot Valley below. If you are ready for the best Missoula getaway book your stay with us today!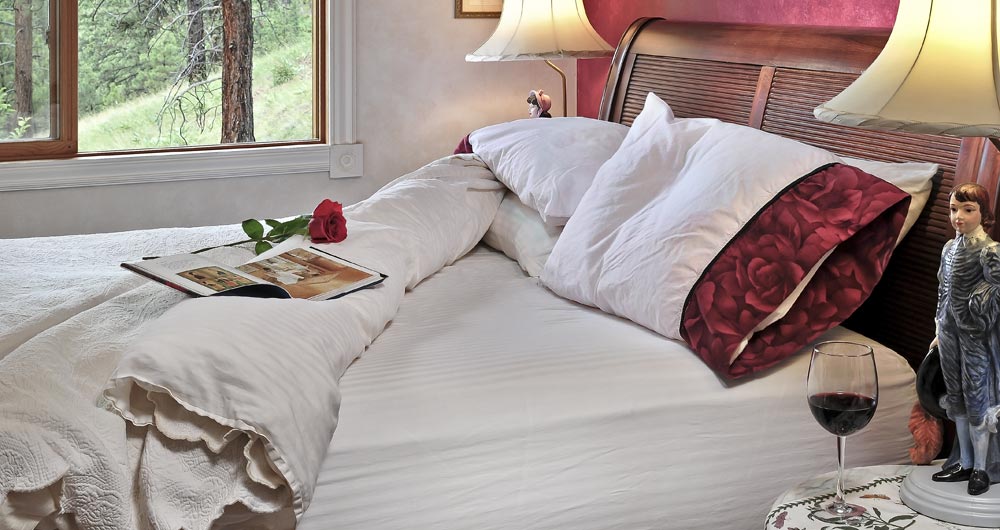 Reasons Why We are the Best Missoula Bed and Breakfast
If you are on the search for the best Missoula bed and breakfast you most likely have a list of certain criteria to fulfill your dreams. Our Missoula bed and breakfast checks off every box and some you didn't even know you needed! Our elegant yet rustic rooms, the location we are in, and our incredible breakfasts as well as the dinners we serve makeup just some of the excellent reasons why we are the best Missoula bed and breakfast. Here are 5 reasons that show you why!
Our location is a big reason why we are the best Missoula bed and breakfast! Set on a mountainside surrounded by nature you'll feel as if you have stepped into your own private cabin oasis. In this sanctuary, you'll listen to the sound of birdsong in the morning and crickets at night. From our location, you get incredible views of the Missoula Valley as well as the surrounding mountain landscape. We are tucked up on twenty acres of wildlife habitat that is also adjacent to the National Forest all while being conveniently situated near downtown Missoula.
 Another great reason why we are the best Missoula bed and breakfast is that you can enjoy the beauty of our location year-round. In winter you can curl up with a good book or head outside for a snowy forest walk. Spring turns the valleys green as the birds and wildflowers make a return. Summer offers ample opportunity for hiking, rafting down the river and hanging out in our beautiful gardens. Autumn brings the changing of the leaves along the river and the first frosts. You can watch geese migrating overhead at our mountainside inn.
Our rustic and elegant decor in our cozy and comfortable rooms makes us the best Missoula bed and breakfast. From your private guest room, you'll be able to look out and see breathtaking views not found at many other bed and breakfasts in the area. From here you'll see the Missoula Valley, Bitterroot River, a national Forest as well as our own wildlife habitat. We have named each room after some part of the natural and cultural history of the area. After a day of adventure, it feels great to come back to a guest suite where you can unwind by taking a warm jacuzzi bath or resting upon your bed fitted with plush linens.
One of the top reasons why we are the best Missoula bed and breakfast is that we offer an array of onsite leisure activities so you can enjoy the ultimate getaway and spend your time right here!  Our twenty acres of wildlife habitat opens up into the Blue Mountain Recreation Area which offers endless hiking, opportunities for horseback riding, golfing, and more! You may want a more relaxed day by spending it in our water garden, reading a book, or meditating. Inside we have a recreation room with games such as billiards, and outside we have horseshoes. Enjoy a meal in our secluded picnic spot. You won't regret spending an entire day right here at our mountain inn.
We serve a hearty breakfast for guests to help fuel you up for whatever adventure lies ahead. These delicious and lovingly prepared meals are a big reason why we are the best Missoula bed and breakfast. Sink your teeth into our Swedish pancakes, huckleberry sourdough, crab cakes, or steak and eggs. You can enjoy breakfast in our beautiful dining room or overlooking the garden from the many decks. We offer dinner for 4 or more guests served in the dining room or outside next to the picturesque waterfall. Enjoy a Western BBQ or Italian, Thai, or Central American dishes. We also have seasonal entree specials to choose from. You definitely won't go hungry here!
Things to do in Missoula This Winter
Any time of year is great to stay at the best Missoula bed and breakfast, but winter brings on special magic that will make your time here especially memorable. If you are looking to get out and escape to a gorgeous winter wonderland, Missoula offers many opportunities to explore. Here are some fun things to do in Missoula this winter.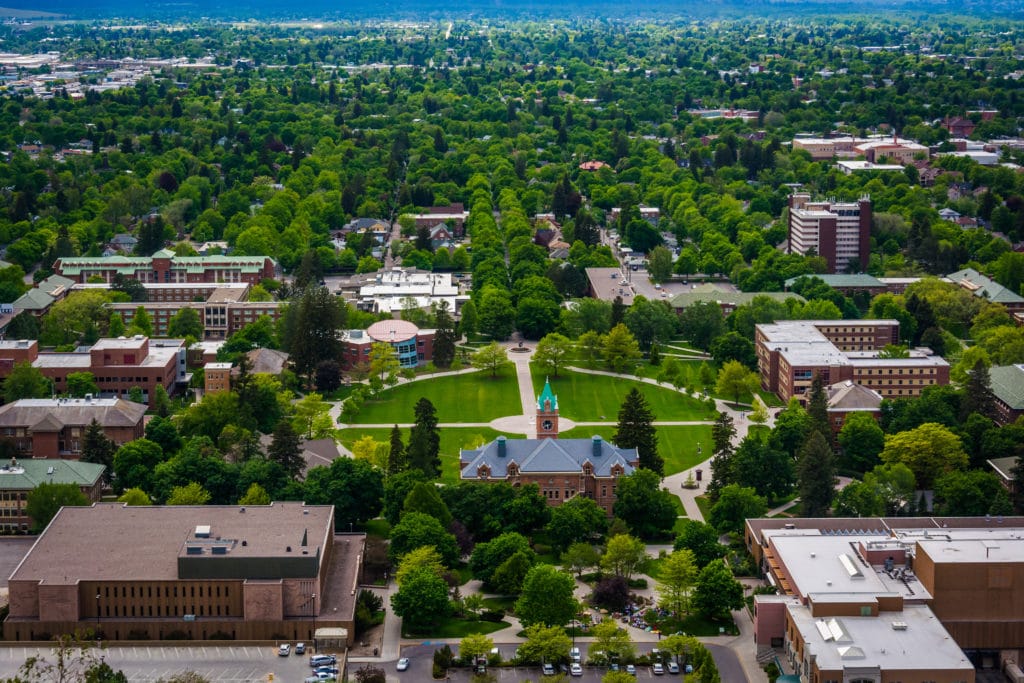 The Perfect Missoula Lodging
Let our Montana inn be the escape you been dreaming of! Our accommodations are set up for your ultimate comfort and relaxation. Unwind and feel the stress melt away as you get a great night's sleep in your guest suite. We offer rooms with incredible views and king or queen size beds with warm down comforters and plush linens. The furnishings are crafted in the rustic style that reflects the ambiance of true Montana. You'll feel right at home at our mountainside retreat! If you want incredible lodging while on a visit to Missoula, book your stay with us today!