Mountains, rivers, and valleys surround Missoula, so it's probably no surprise that there are plenty of fantastic places for kayaking and paddling in and around Missoula.  However, one of our absolute favorites is Brennan's Wave in downtown Missoula.  Brennan's Wave in downtown Missoula is legendary, and for a good reason!
Brennan's Wave is located on the Clark Fork River, which just so happens to run right through the heart of downtown Missoula. Even if you don't want to brave the Wave yourself, you can find crowds of locals and visitors around Brennan's Wave in downtown Missoula soaking up the action. It's a genuinely fantastic amenity and one we take great pride in sharing with guests at our Missoula Bed and Breakfast.
While you're planning out your adventures in the area, from kayaking and paddling to hiking and mountain biking, don't forget to book your accommodations.  Our Missoula Bed and Breakfast is one of the best places to stay in the area, offering welcoming accommodations, exceptional service, and the quiet nature-focused respite you crave. Book your room at our Missoula Bed and Breakfast today!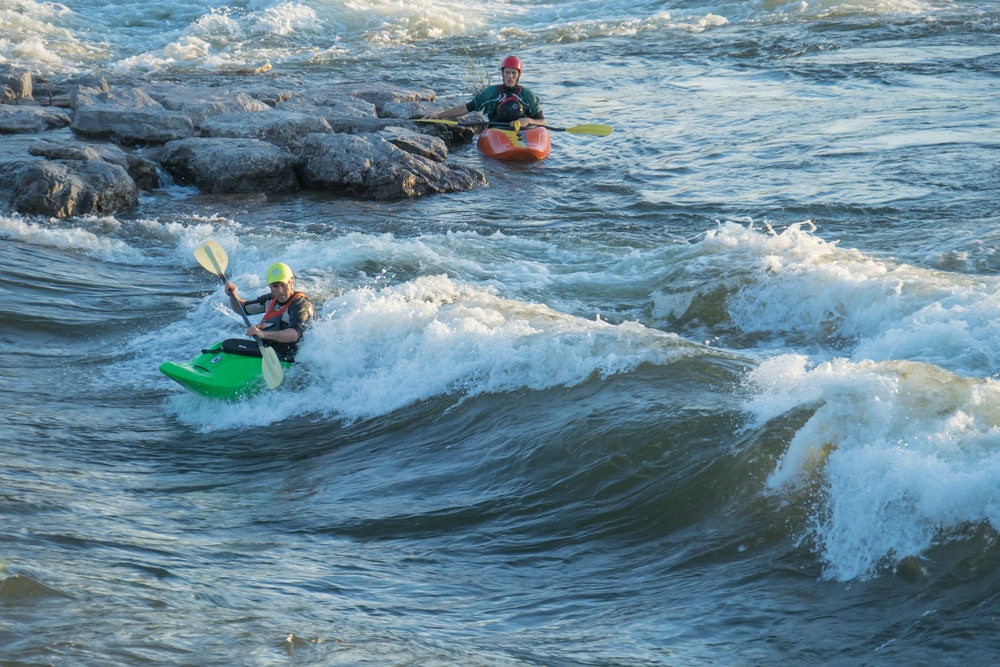 Kayak Brennan's Wave in Downtown Missoula
Brennan's Wave, found on the Clark Fork River in downtown Missoula, was named after a world-famous kayaker, Brennan Guth, who died in a tragic kayaking accident in Chile in 2001. Brennan's Wave was first constructed in 2006 and today brings in droves of kayakers, surfers, and paddleboards for a fun afternoon on the water.
Not only is Brennan's Wave a fun feature of downtown Missoula, but it's also played a vital role in rehabilitating this part of the Clark Fork River. Before the Wave's construction, an irrigation diversion made it difficult to pass safely. Guth, an avid paddler, was active in the downtown Missoula community and was working on a project to repurpose this irrigation diversion and make the river more accessible and safer for paddlers.
In the wake of his death, family and friends continued to fundraise for this project, which resulted in the fantastic downtown Missoula amenity you see today. This Wave is so popular that it even once served as the destination for the U.S. Freestyle Kayaking Championships.
Brennan's Wave has been such a popular addition to downtown Missoula, regularly drawing adventure enthusiasts and spectators, that there are now plans to add a second wave downstream from the first.
More Great places to Kayak Near Missoula
As fantastic as Brennan's Wave in downtown Missoula is, it's just one of the many places you can get out on the water for some paddling fun. As we mentioned, there are a vast number of rivers and lakes around the Missoula area suitable for paddling.  Here are just a few more favorite destinations to consider this summer:
Frenchtown Pond State Park is the perfect place for a relaxed afternoon of paddling. It's just 5 miles west of Missoula and features a small, spring-fed lake with a maximum depth of 18 feet.
The Alberton Gorge is one of the most breathtakingly scenic places to spend a day kayaking, canoeing, or paddleboarding in the Missoula area. The gorge is only 35 miles west of Missoula and provides a gorgeous 12-mile stretch of the steep-walled canyon to paddle through.
Blackfoot River is also a great place for paddling.  Head to the put-in at Whitaker Bridge and prepare for a gorgeous and adventurous trip. One mile into the float, you will hit Thibodeau Falls, the Blackfoot's best-known rapids, before reaching the Johnsrud Fishing Access site, which is an excellent place to take out.
Wherever your paddling adventure takes you, know there's one place to call home that far exceeds anywhere else in the area at the end of the day, and that is our Missoula Bed and Breakfast.  Summer will be over before you know it.  Book your trip to our Missoula Bed and Breakfast today!